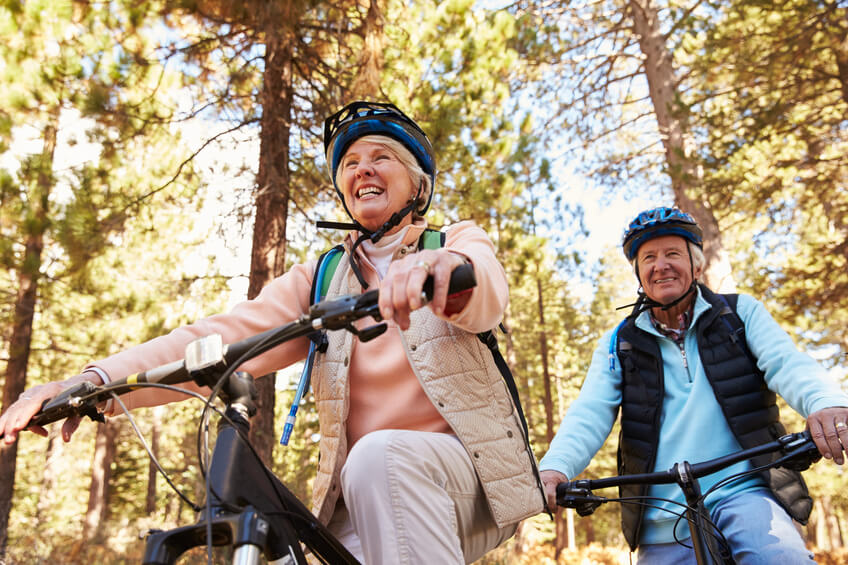 Exercise benefits all of us. Study after study proves this to be true, and it's common knowledge that leading a sedentary lifestyle increases one's risk of heart disease, obesity, diabetes and other health concerns. Getting enough exercise is often especially challenging for seniors, but a new study just might give some the motivation they need to get their bodies moving.
Study Findings Regarding Seniors and Exercise
A study published in the Annals of Internal Medicine followed more than 1,600 older adults who led a relatively sedentary lifestyle at the beginning of the study. Half of the group began a moderate walking and strength training program while the other half continued with their previous level of activity. At the study's completion, the findings were that people who exercised spent about 25% less time disabled or injured. These results showed the benefits of taking a proactive approach and starting to exercise before an injury sets in to both prevent disability and reduce recovery time following an injury. Having an exercise program in place also appears to offer significant benefits in preventing subsequent injuries and periods of immobility, helping seniors to reduce the many negative effects often caused by this including reduced independence and a perceived need for institutional care.
Starting to Exercise Later in Life
This study is especially significant because it gives merit to the many benefits of continued, sustained exercise throughout life as well as the value of beginning an exercise program at any point in life. Even individuals who came into the program with mobility, balance and muscle tone issues or other concerns that might make it seem as if exercise was not possible or would not be enough to improve their outcomes saw positive results.
Safety and Exercise for Aging Individuals
While the results of this study are promising, it is important to consider the safety of a senior who is just beginning an exercise program. All new activity should be monitored by a physician, and undergoing a complete physical is important before getting started. Starting slow with a simple walking program, chair exercises or low impact aerobics, tai chi or yoga is a great idea. Many senior centers and recreational centers offer such workout programs specifically catered to meet the needs of aging individuals.
Caregiver Support
Family caregivers can encourage seniors in beginning a safe exercise program by helping them to find the resources necessary to achieve their fitness goals. For those with existing mobility concerns, it is important to keep fall prevention tips in mind by offering supervision and support as necessary. If exercise includes leaving the home to join a class at a senior center or recreational center, reliable transportation is also important. An accredited home care provider like Salus Homecare Orange County is an excellent resource for finding professional assistance when family members are not able to step in.
Exercise Following Hospitalization
Seniors recovering from an injury or surgery also benefit from exercise when a program is designed with their safety and abilities in mind. Many doctors will recommend physical therapy as a part of the recovery process. Therapists can both work directly with seniors and offer training and education to family members and caregivers that empowers them to safely support the seniors in their care.
Conclusion
Exercise benefits everyone and can mean the difference between needing a high level of assistance and remaining independent as you age. An existing medical condition is often not a reason to give up on getting active. In fact, even a small amount of exercise can make a difference. Dr. Thomas Gill, leader of this research study and professor at Yale University of Medicine perhaps put it best, "People can change their lifestyle to build in physical activity into their weekly schedule."  He continues, "Then they can accrue those benefits, and even in the event of serious illness or injury that leaves them disabled, they still have a high likelihood of recovery. We hope that will provide additional incentives for older persons and their families, as well as physicians, to more aggressively recommend the benefits of physical activity in this population. It's probably the single best mechanism for them to maintain their independence."