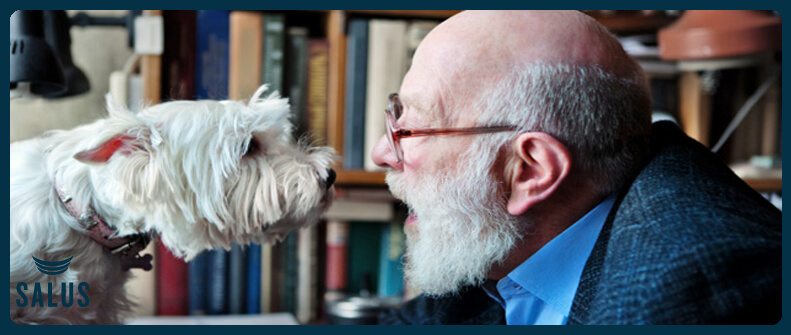 Animals end up in shelters each year, and many of those animals are senior pets who spent most of their lives as loving companions to senior citizens. This frequently happens far too soon when seniors leave their homes to enter nursing homes or assisted living facilities. When seniors with pets enter facilities, their furry friends suffer the consequences, and senior pet owners do too. Leaving behind a beloved animal is stressful, and it causes seniors to miss out on all the benefits of aging in place with a pet.
The Benefits of Keeping Seniors and Pets Together
Animals are great assets to senior citizens. They offer companionship and bring meaning and purpose to the individual's life. Studies also show that petting a dog or cat reduces stress, decreases blood pressure and helps the body to effectively regulate cholesterol levels. Owning a dog motivates a senior to stay active through daily walks, trips to the park and social activities. Animals also have a calming effect on individuals with Alzheimer's and other forms of dementia, reducing the frequency of negative outbursts and depression.
The Negative Impact on Seniors Losing a Pet
When seniors are separated from pets that have been in their lives for a long time, it can feel like losing a family member. Many experience the stages of bereavement, and some fall victim to depression or severe anxiety. In some cases, seniors in a depressed state appear to lose their memory and become more susceptible to illnesses which can increase the need for a higher level of care and reduce the individual's ability to remain independent.
Options for Senior Citizen Home Care
While there are times when seniors need assistance with activities of daily living or medical concerns, home care options provide safe and effective care without resulting in seniors leaving their beloved pets behind. In home care can provide assistance with transportation, housecleaning, meal preparation and medication reminders. Home health workers assist with wound care, managing medical concerns, like diabetes and high blood pressure, and providing medical support after a hospitalization. This increases independence and allows seniors to age in place surrounded by the love of their family, friends and pets. Salus Homecare in Orange County supports the rights of seniors to remain with their pets. To learn more about our services, contact us for a free, no obligation consultation.