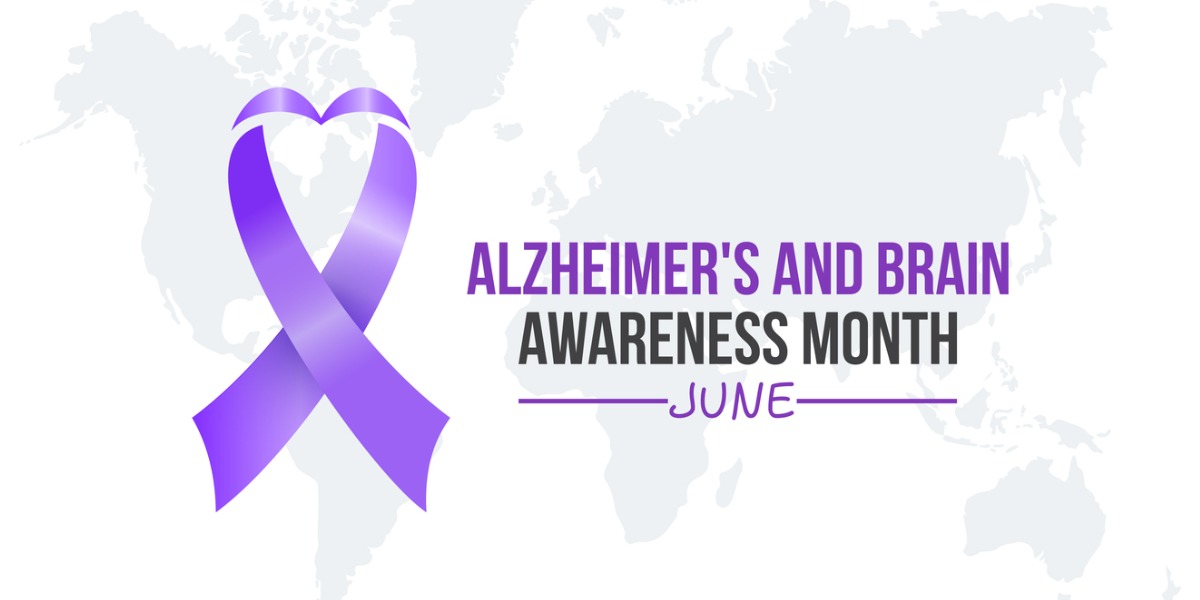 Alzheimer's is a progressive and irreversible brain disorder that affects memory, thinking, behavior, and daily functioning. It is also the most common cause of dementia and the sixth leading cause of death in the United States.
Caring for a loved one with Alzheimer's disease and related dementias is often complex, challenging, and exhausting. It takes a toll on the family caregiver's physical, emotional, and mental health. Support is essential.
One of the long term care options in Orange County that many families consider is professional in-home caregiving. In-home care in Orange County empowers people with Alzheimer's to stay in their own home safely, surrounded by familiar people and objects. It also provides assistance to family caregivers who need a break or some extra support.
In this blog, we will discuss Orange County Alzheimer's care benefits for both patients and caregivers, as well as some tips regarding how to find and choose a quality in-home care provider.
Benefits of In-Home Care for Alzheimer's Patients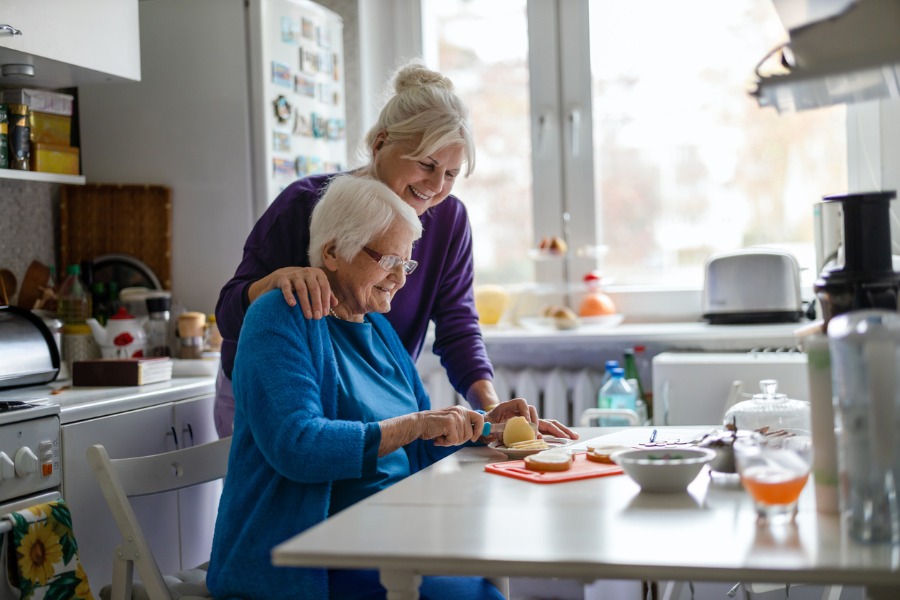 In-home care differs from home health care in that it offers non-medical support. There are several advantages provided by this level of care, such as:
Comfort and Familiarity
Remaining in a comfortable, familiar setting is beneficial for those with Alzheimer's. It helps to decrease feelings of stress, anxiety and tension caused by situations or people that they are not familiar with. Additionally, it allows them to retain their own identity and a sense of dignity and self-respect.
Personalized and Flexible Care
In-home care is tailored to the specific needs, preferences, and routines of each person with Alzheimer's disease. For example, some people require help with daily activities; ADLs including bathing, dressing, or eating. Others may require medication reminders, transportation assistance, or help with household chores.
In-home care in Orange County is flexible and does not disrupt daily routines. Care plans adjust as the disease progresses and the senior's needs change.
Continuity and Consistency
In-home care provides a stable and reliable source of care for someone with Alzheimer's disease in Orange County. Research shows seniors with this form of dementia benefit from consistency and routines. One example is having regular interactions with the same caregivers. Building trust and rapport reduces confusion and frustration.
Socialization and Stimulation
In-home care offers opportunities for socialization and stimulation for someone with Alzheimer's, preventing isolation or boredom when a senior is homebound.
Hobbies, games, music, or reminiscing are a few examples of ways in which care providers stimulate the senses and provide meaningful interaction between the patient and caregivers.
Caregivers also accompany seniors to outings, such as visits to friends, family, worship services, adult day care, or community events. This helps the senior to remain connected with their community and the activities they love.
Benefits of In-Home Care for Caregivers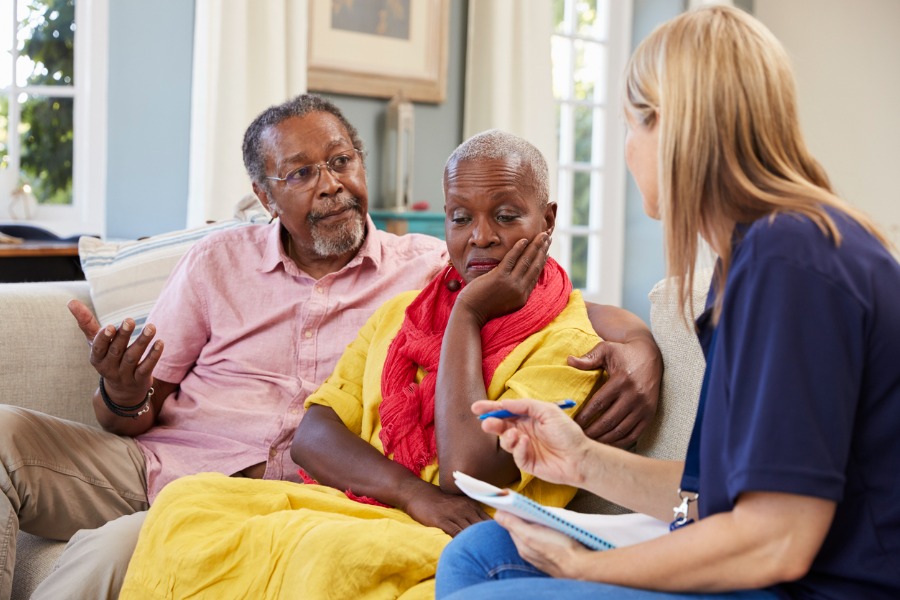 Alzheimer's care benefits family members caring for a person with Alzheimer's disease in Orange County in many ways, such as:
Respite and Relief
Dementia caregiving is often physically and emotionally taxing. It interferes with the caregiver's personal and professional responsibilities as well. In-home care provides respite and relief for family members who need some time off to rest, recharge, or attend to other matters. Respite care in Orange County minimizes or prevents caregiver burnout and improves the caregiver's well-being and relationship with the care recipient.
Support and Guidance
In-home care provides support and guidance for caregivers who feel overwhelmed or uncertain about how to best care for their loved one with Alzheimer's disease or dementia.
A trained and professional Orange County caregiver offers tips on how to communicate effectively, manage challenging behaviors, address Sundowners Syndrome, or cope with difficult emotions.
They also provide information on local resources and services that may be helpful for the caregiver or the senior with dementia. Examples include caregiver support groups and other support groups, doctors specializing in dementia care, and local Alzheimer's Association chapters.
Peace of Mind and Satisfaction
Caregivers experience peace of mind and satisfaction knowing their loved ones are cared for when they can't be there. They feel confident knowing their loved ones with Alzheimer's are receiving professional care in a safe and comfortable environment. It is also easier to spend quality time with their loved ones without having to worry about the practical aspects or physical demands of caregiving.
How to Find and Choose an Alzheimer's Care Provider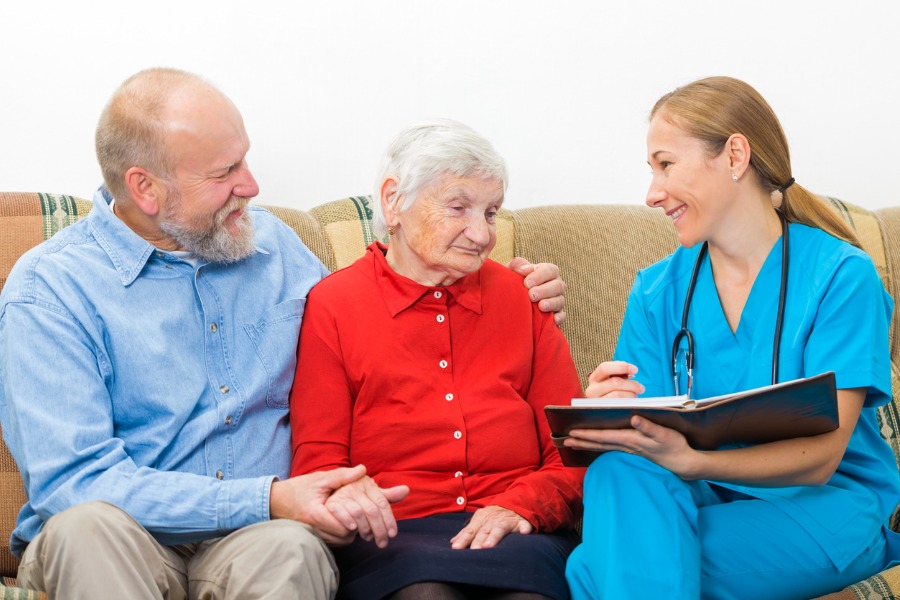 If you are interested in exploring Orange County in-home care options for your loved one with dementia or Alzheimer's disease, here are some steps you for finding and choosing a quality in-home care provider:
Talk to Your Doctor
Your doctor can help you assess your loved one's needs and recommend appropriate types of home care services. They can also refer you to reputable homecare providers that have experience caring for people with dementia.
Online Tools
Online tools assist families in finding and comparing accredited agencies in your area. One option is the Medicare tool Home Health Compare, or consider Google reviews for homecare agencies.
Direct Contact
When you contact potential dementia care providers in Orange County, ask them about their accreditations, qualifications, experience, services, availability, costs, and policies. Also request and review testimonials from previous clients or their families.
Interview at Home
Before hiring any provider, arrange a meeting at your home to introduce them to your loved one with Alzheimer's disease. Observe how they interact. This is also your opportunity to ask specific questions regarding certain situations or challenges that your loved one is experiencing. A reputable care provider will complete a thorough assessment to determine needs and goals.
Conclusion
Alzheimer's care benefits both persons with dementia and their family caregivers. It provides comfort, familiarity, personalized care, continuity, consistency, socialization, and stimulation for a senior with dementia, as well as respite, support, guidance, and peace of mind, for their caregiver.
If you are looking for more information or resources on Alzheimer's disease or caregiving, we're here to help. Contact Salus anytime to learn more about our dementia care program or schedule a complimentary consultation.