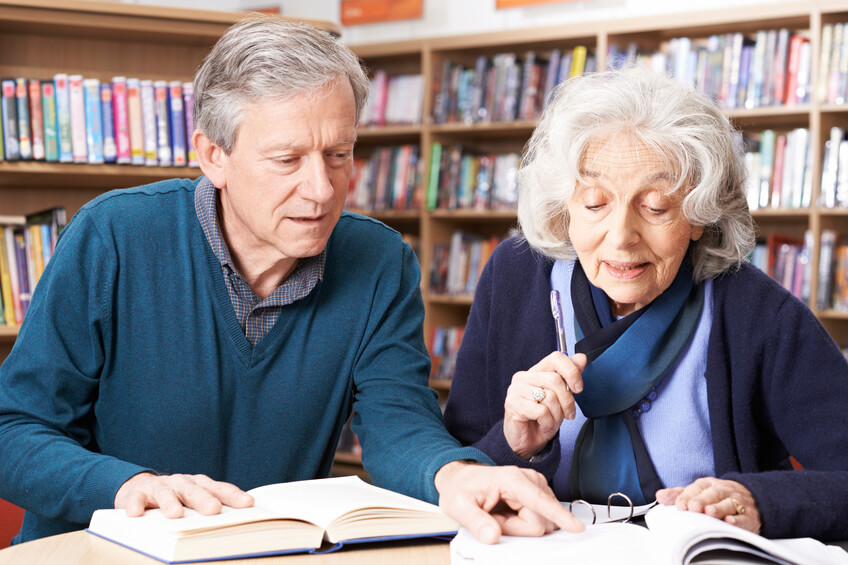 One of the best ways for seniors to spend their time is to pursue higher education. It doesn't matter whether you already have a college degree or whether you have never set foot on a college campus, the benefits of taking college courses as a senior are immense. The act of learning new things causes your brain to grow new cells and form new connections among existing cells. This can help prevent some of the dreaded diseases that attack seniors like Alzheimer's and dementia, and it helps to improve the memory and cognitive ability.
Social Benefits of Attending College
It doesn't matter whether you go to a physical campus or attend classes online, the social benefits of taking college courses are immense for seniors. Salus Homecare knows that seniors often suffer from social isolation and partnering depression, and they recommend attending college as the perfect antidote. Seniors who take college courses will get to interact with other people daily, increasing their happiness and decreasing their loneliness.
How to Enroll
Colleges recognize the value of having seniors attend their courses, and they encourage them to attend with benefits like reduced fees, scholarships and tax credits. They even sometimes will allow seniors to attend courses for free.
To attend, you will need to fill out an application and then enroll in their course of your choice. Fortunately, you will not have to take the SAT or ACT to gain admission in most cases. You will need to show proof that you are over the age of 60 to get the senior perks like reduced tuition. You will also need to show that you have a high school diploma and prove your residency.
Tuition Waivers
The American Council on Education states that 60 percent of the institutions of higher learning in the US provide tuition waivers for seniors. Unfortunately, not many people take advantage of these programs. Make sure that you look into a tuition waiver when you go back to school.
Scholarships
Even if you cannot get a tuition waiver from your local college, you still may be able to take college courses for free with the help of a scholarship. You will find a nice list of scholarship opportunities by clicking here.
Tax Deductions
One of the best parts about attending college courses for seniors is that it is tax deductible. The federal government allows taxpayers to claim up to $10,000 in deductions on income tax returns over the course of their lifetimes.
Auditing a Course
If you are unable to find a tuition waiver or scholarship, you still may be able to attend a college course. You can audit a college course for reduced or not cost. Auditing a course means you get to attend the course and learn the information, but you are not required to do any homework or take the exams. This can give you all the learning and social benefits without the stress of trying to get a good grade. The only downside of auditing a course is that you will not receive any credit, which means that auditing a course won't help you earn a degree if that is something you are striving towards.
Learning is not just for the young. The benefits of attending college can be just as great if not greater for seniors. Salus Homecare recommends that all seniors enjoy the social and mental benefits of stimulating their minds by taking a college course.