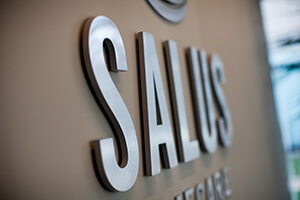 Leading Accredited Home Health Provider Recruits Veteran Home Health and Hospice Professional to Oversee Home Health and Hospice Partnerships
Irvine, CA (May 22, 2014) — Salus Homecare, a California-based company focused on providing coordinated home-based services including skilled nursing, physical therapy, occupational therapy, speech therapy and medical social services combined with caregiving services, today announced that Debbie Robson, RN, BSN, MBA-HCM, ACHE has joined as Vice President of Hospice Care effective immediately. Robson will work closely with Salus' executive management to manage the home health provider's home health and hospice partnerships with the goal of expanding Salus' footprint in the Southern California market.
Robson previously served as Executive Director of Anaheim-based Hospice Care of the West where she oversaw day-to-day operations of the hospice provider. Under her leadership, the hospice became a premier, award-winning provider in California.
Her experience and expertise will be especially valuable in the expanding home health and hospice programs to better provide a "continuum of care." This move signifies Salus' ever-deepening commitment to delivering superior health care in the changing healthcare markets.
"Debbie is a proven talent," said Boad Swanson, President of Salus. "She is passionate about the 'continuum of care' and shares the standards of excellence Salus strives to provide to those we serve."
Robson has a long history in the home health and hospice business. Prior to Hospice Care of the West, Robson worked as a Regional Hospice Consultant at Heartland Hospice. She also served as the Director of Hospice for St. Joseph Hospice in Orange, CA. Robson received certification through CAHSAH as Advanced Certified Hospice Executive. Robson completed her Bachelors of Science in Nursing and MBA in Healthcare Management.
"My background in hospice and home health will help strengthen Salus' position in Southern California's for elderly and disabled patients to recover or age in place," Robson said. "Salus has had amazing growth and its deep pool of resources will be invaluable to current and future clients."
Robson is currently affiliated with the National Hospice & Palliative Care Association and serves on the 2014 California Hospice and Palliative Care (CHAPCA) Regulatory Affairs Committee.
About Salus Homecare
Salus Homecare is on the forefront of providing coordinated home-based services, which include 24-hour skilled nursing, in-home care, senior home care, physical therapy, occupational therapy, speech therapy, and medical social services combined with caregiving services. Salus provides a "one source" approach through its ONE CALL™ program by providing home-based services for patients recovering from hospital stays, the elderly in need of assistance at home and victims of catastrophic events that necessitate home care on a continuous basis. Headquartered in Irvine, Calif., the healthcare provider has locations in California, Utah and Colorado. The home care provider was awarded the Gold Seal of Accreditation by the Joint Commission, the U.S. health care rating agency. For more information, visit SSalus Homecare.