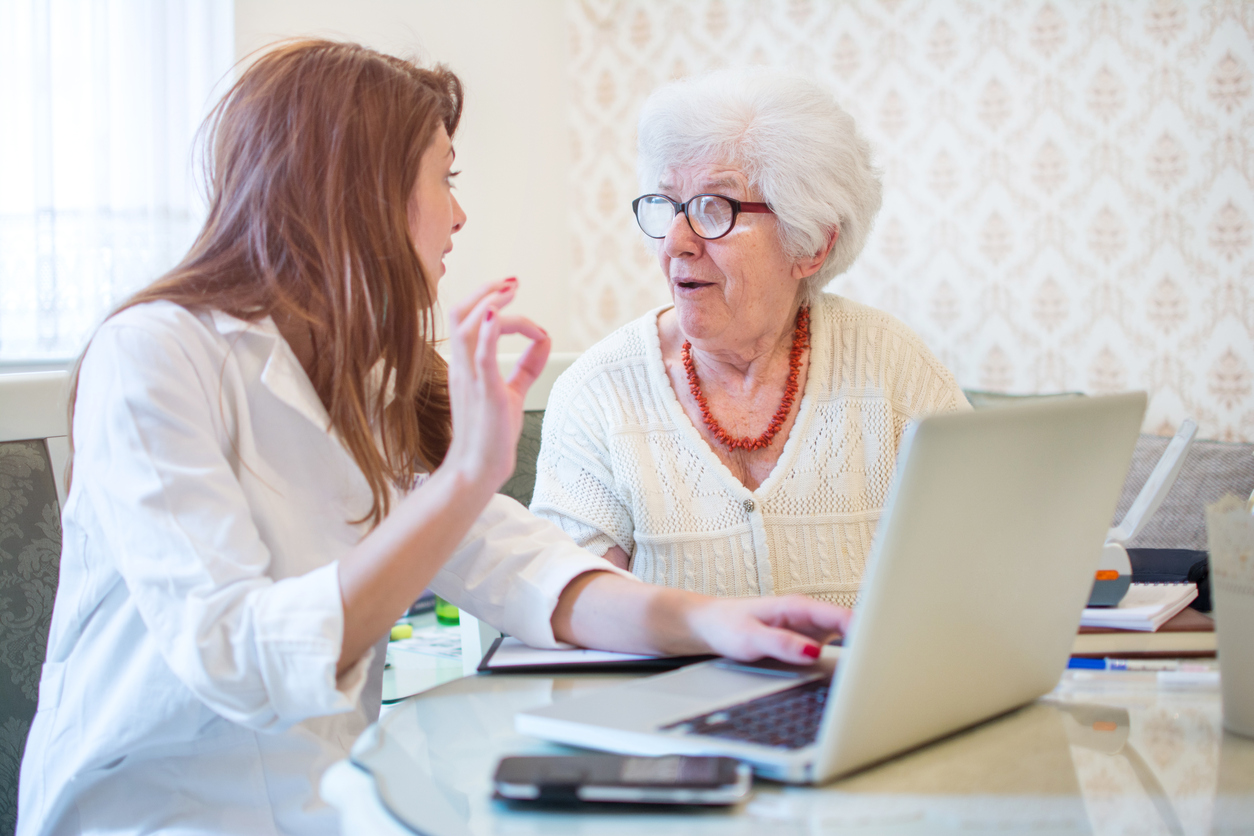 When a loved one is aging in place and struggling to meet their emotional or physical needs, you want to help. For some families, providing extra assistance involves hiring a homecare provider to assist with day-to-day tasks or medical needs. Many providers offer various levels of care, and they often include in home care and home health. When calling them to discuss your loved one's needs, you might hear buzz words like "personal aide", "home health aide", "professional caregiver" and "homecare nurse". This is sometimes confusing. What support do these professionals provide? How do I know what my mom or dad needs? Let's explore common types of care to better understand them.
What Does a Homecare Aide Do?
Something as simple as slipping in the bathtub or tripping when you are trying to climb the stairs can bring big changes to your life. This is especially true for your elderly loved one who might not heal so quickly after a fall. Homecare aides are there to help make sure your loved one is safe at home and avoids common problems like trips or falls. These individuals do not provide medical support. Rather, they assist with ambulation, help with bathing and grooming, accompany your loved one to doctor's visits and remind them to take important medications.
Professional caregivers help mom or dad to stay more active by encouraging them to safely participate in regular exercise or simply get outside and walk. They also prepare healthy meals and help your loved one to remember to stay hydrated, which contributes to keeping them healthier. If your loved one does fall and a professional caregiver is in the home, mom or dad benefits from their presence and ability to call for medical support immediately so the problem is addressed quickly and any damage is minimized.
Many seniors benefit from long-term homecare support. They might hire a caregiver for a few hours a day, a few days a week, or the caregiver might provide around the clock support.
What is the Role of a Home Health Aide?
Home health aides also help to keep your loved one safe at home, but they perform tasks that are more medical in nature. This choice is ideal when mom or dad is returning home from the hospital or faced with a chronic medical condition that is difficult to manage independently. Home health care is provided by licensed nurses or certified nursing assistants.
If your mom needs help checking her blood sugar or monitoring her blood pressure, home health is probably the right approach. If your dad has wounds that are not healing properly or is receiving IV nutrition at home for a period of time after a hospitalization, wound care and IV management are other services home health provides. Physical strength, balance and gait concerns or difficulty ambulating independently are often addressed through physical therapy, a program that is also often categorized under home health. Nurses play a role in helping seniors regain independence too through teaching and advocacy.
In most cases, these services are short-term and covered by Medicare or your private insurance provider. Home health aides typically visit for an hour or so each day, a few days a week.
Homecare and home health both play a role in helping to keep seniors safe and comfortable. The difference between the two often comes down to the level of medical support each service provides. If your loved one is in need of care, the best way to determine which service is appropriate is by scheduling a consultation with an accredited provider like Salus Homecare San Fernando Valley. Call us to schedule your appointment, and let us know how we can help.
There is no ads to display, Please add some