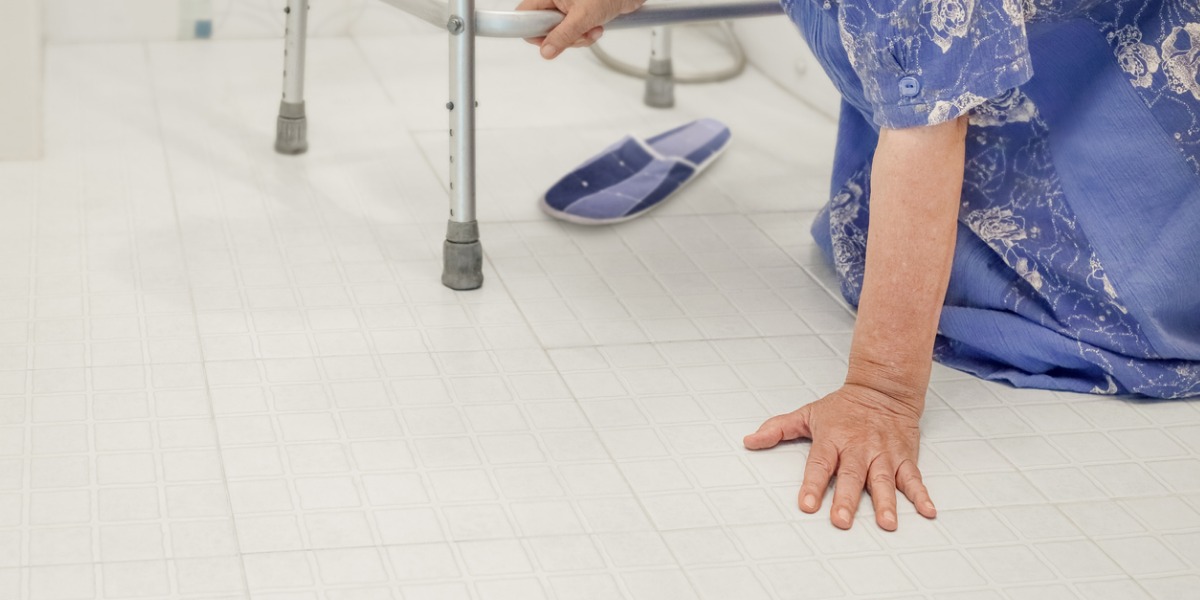 According to the National Council on Aging, one in four older Americans fall each year. Every 11 seconds, a senior is treated in the hospital for a fall, and every 19 minutes, a senior dies from a fall. The risk of falling increases proportionately with age. Vision problems, neuropathy, cardiovascular disease, diabetes and dementia can all increase a senior's risk of falling.
Preventing a fall is of vital importance because falls take a serious toll on quality of life and negatively impact independence. They also cause pain and a loss of confidence, and the more often a senior falls, the more often we see these concerns present.
There are many things a family can do to help their senior loved one prevent a fall. Here are a few simple solutions:
Remove Home Hazards
Fall prevention begins at home. Take a look around and look for things that might increase your loved one's risk of falling. Check every room carefully. It's sometimes helpful to have the senior walk through the room with you using any assistive devices that they may need. Some simple tips to make the home safer include:
Removing anything that is cluttering hallways or floors including boxes, newspapers, cords, or excessive furniture. The goal is clear, easy to navigate floor space
Secure any loose rugs with double-faced tape or carpet backing. If floorboard or tiles are loose, repair them
Make sure everyday items are within easy reach. This includes dishes and cooking utensils as well as food, clothing and even medicine or cleaning supplies that the senior might use on a regular basis
Look for spills or sticky spots on the floor. Regular cleaning can make the floors safer
Place non-slip mats in wet areas including bathrooms, the kitchen and the laundry room. Make sure they're safely secured to the floor
In the shower, add a grab bar or stool. Consider a zero-entry shower for added safety
Place night lights in the bedroom and hallways and a lamp by the bedside table. Make sure any cords are secured or hidden so they're not a tripping hazard
Illuminate light switches so they're easy to find in a dark room
Store flashlights in easy to find places so they're readily available in the event of a power outage. Make sure fresh batteries are in place too
Your Doctor's Role
Along with addressing the home environment, it's important to consider your aging loved one's health needs. A visit to the doctor can go a long way towards helping your family develop an effective fall prevention strategy. While in the doctor's office:
Discuss current medications. What are they? How do they interact with each other? What side effects, if any, is the senior experiencing? This discussion should include all prescription and over the counter medications.
Talk about any previous falls. If possible, write down details about any falls when they happen so you have information to share with the physician. Note when they happened, how the senior felt, where they happened and what measures were taken immediately afterwards to keep the senior safe. These details can help the doctor to pinpoint areas of concern and develop an effective fall prevention strategy.
Have a conversation about exercise. What is the senior doing now? What is safe for the senior to consider doing? Gentle and regular activity helps to improve balance, flexibility, energy level, motor skills and strength which can help prevent a future fall.
Discuss current health concerns. How do they impact the senior's risk of falling? Are conditions improving, declining or stabilizing?
Evaluate for new health concerns. Request a full wellness exam including blood work and other diagnostic testing at least annually to assess health.
Things Seniors Can Do
Perhaps one of the most effective ways to prevent a fall is to encourage your senior loved one to take control over their own health. The choices they make at home every day can have a significant impact. Some of them include:
Using a cane or walker if advised to do so
Reaching for grab bars, a shower stool or handrail when they feel unsteady
Eating a well balanced diet to ensure the body is getting the proper nutrients and to maintain a healthy weight
Staying hydrated to prevent dizziness and fatigue, both of which increase the risk of falling
Wearing sturdy, balanced footwear with non-skid soles and keeping shoe laces tied at all times
Accepting support from family members or a professional in home caregiver if certain daily tasks are challenging
What to Do When a Fall Happens
Even if a senior follows all of these steps, a fall can still happen. How they handle that fall can make a difference in the impact it has on their health, longevity and quality of life. Here are some important tips to follow if a fall does occur:
Get up properly. Medical experts recommend the senior lie on his side, bend his top leg and prop himself up on an elbow. From there, the upper body can be used to pull himself close to a sturdy object (such as a banister or sturdy and secured piece of furniture) so he can then use that to help him stand up slowly. The senior should immediately return to a sitting position to rest and recover for a moment before attempting to stand again.
Call for help. If a phone is nearby, use that to call 911. If a relative, home care worker or friend is in the house, verbally call out to ask for help. If neither is the case, make noise to try and attract attention.
Visit a doctor. Even if a fall seems minor and without complications, pay a visit to the doctor as quickly as possible. Get assessed to ensure there are no minor fractures or other concerns. Also use this to discuss the reason for the fall and develop a fall prevention strategy for the future.
It's always best to prevent a fall before it happens, but when prevention isn't possible, finding the right support can help to prevent a subsequent fall and increase a senior's chance of remaining independent at home. Salus Homecare in San Fernando Valley is here to help. Working with your family and your loved one's medical providers, we'll develop and implement a personalized care plan to help keep your loved one safe at home. Contact us to schedule an assessment today.
There is no ads to display, Please add some