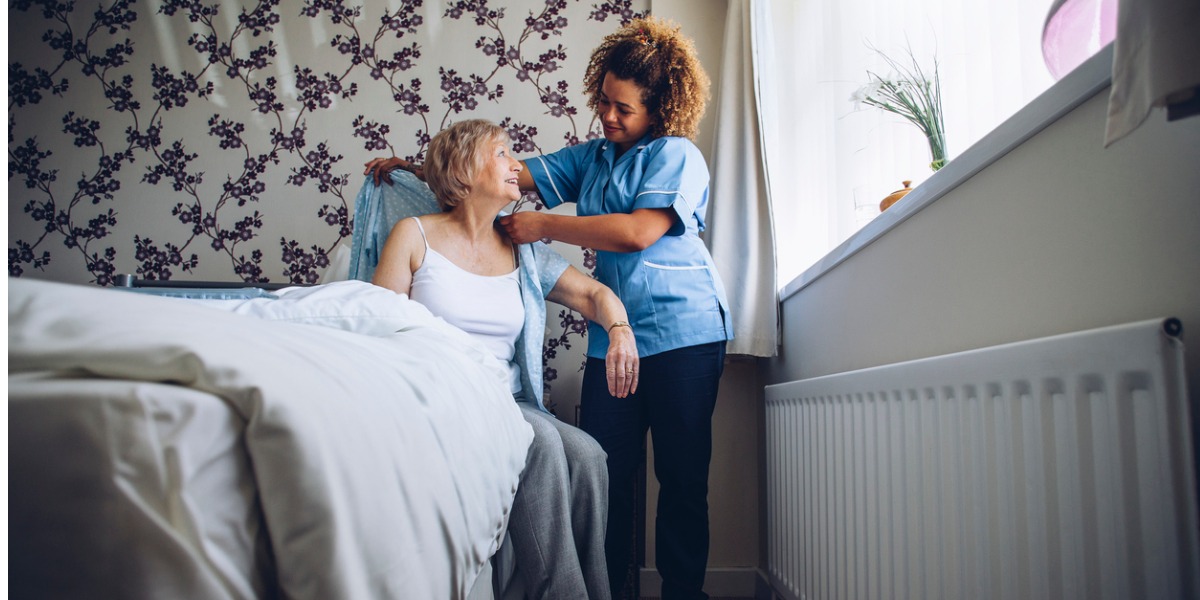 The majority of seniors express a desire to age in place, and as family caregivers, we want to support them. However, as mom and dad get older, there are certain things that they may not be able to safely do on their own. Without the right support, trying to accomplish important daily tasks like bathing, getting dressed, preparing meals or driving to doctor's appointments can increase the risk of falls and accidents. This can compromise their health and their independence. 

If your family is like many families, you might find yourself stepping in to help with activities of daily living, making it easier for your mom or dad to remain independent and comfortable at home. However, these tasks can take a lot of time, and they require physical and mental energy too. Sometimes, it all just feels like too much. One solution to this problem is to hire a professional in home caregiver. This is someone with the skills and knowledge to assist with activities of daily living and providing support, supervision and companionship to seniors. Support is provided in the comfort of home and when it's convenient for your family and your aging parents. It can also be offered for just a few hours a week or around the clock – you pick the schedule. This makes in home care a cost effective option for seniors and their families.

The Disadvantages of Putting off In Home Care
Many families recognize the advantages of in home care, but even recognizing these benefits might not prevent you from putting off signing up for this beneficial service. Perhaps you feel like your parents will be resistant to home care. Maybe you think it's selfish to ask someone else to take care of your mom or dad when you're perfectly capable of handling these tasks alone. You might be a person who has trouble asking for the help that you need. Or, you might feel frightened about the idea of bringing a stranger into your parent's home. 

While these beliefs are normal and even common, putting off in home care for too long can negatively impact your parents ability to age in place. It can also hurt you. Delaying asking for help can lead to ignoring your own needs, and eventually, feeling frustrated or even like you're a failure because you can no longer effectively meet your parents needs all on your own. It also means that you spend time missing out on the many advantages that in home care brings to family caregivers. 

The Advantages of Respite Care
Respite care, or professional care meant to give family caregivers a break, offers many advantages. They are well documented in the homecare industry, and families across the country benefit from them. Let's take a look at a few ways in which respite care helps family caregivers.

Finding Balance
When your loved one's needs increase, it's often difficult to balance those needs with your own and find enough time for your career, health or personal needs. When left unchecked, this can cause quick declines in your own physical and mental health. Respite care makes it easier for you to take time for yourself, find balance and maintain the health and quality of life you deserve.

Enhancing the Other Relationships in Your Life
The other relationships in your life remain important even as your parents needs are increasing. Finding time for your spouse or significant other, your children and other important people in your life is another way to ensure you maintain balance. When you ignore these relationships, they can deteriorate, causing emotional stress for you and the people you care about. A professional caregiver can step in to help take care of your aging loved one, making more room in your life for other people who matter. This can prevent those other important relationships from declining, and it might even strengthen them. 

Time for Hobbies and Interests
A busy family caregiving schedule can make it difficult to find time for hobbies and interests that you love. Putting these things on hold decreases happiness and negatively impacts your quality of life. However, when respite care is in place, it's easier to regain your interest in and focus on the things that bring you pleasure in life.
Peace of Mind
As a family caregiver, it's easy to feel guilty if you step away even for the shortest period of time. If your loved one is homebound, you might worry about isolation or loneliness when you can't always be around. If their risk of falling is high or they are experiencing even the earliest stage of dementia, it's common to feel concerned about their health and wellbeing. A professional caregiver can offer you peace of mind in knowing your loved one is well cared for when you can't be there. Additionally, a well developed plan of care can offer additional opportunities for socialization and sensory stimulation, helping your loved one to enjoy a higher quality of life and empowering them to maintain independence and cognition. 

Your quality of life matters just as much as that of your loved one's. Taking steps to protect your own mental and physical health is important. You owe it to yourself to ask for help so you can remain happy, health and capable in your role. Respite care from a professional caregiver can make all the difference. Salus Homecare of San Fernando Valley is here to help make your life easier as you support your parents goals to live independently. Give us a call to schedule a consultation, and let's work together to find the right tools for your family.
There is no ads to display, Please add some