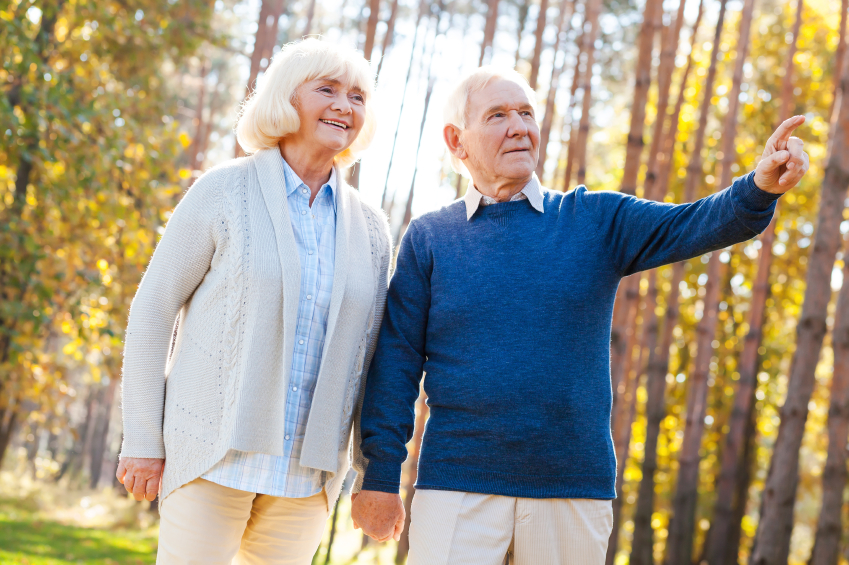 Enjoy fresh air and the open blue sky? The sky is still the limit for active seniors. An activity doesn't have to be labeled "for seniors" to be enjoyable. A good starting point for finding activities is by thinking through the things you love most or that you've always dreamed of doing. And even if you aren't the most active person or need assistance getting around, Salus Homecare put together this list of Outdoor Activities that any one can enjoy.
1. Berry Picking
Berry picking outings are fun for seniors because they offer mild physical activity with delicious end results. Look for a berry farm in your area and plan a short excursion. Afterwards, have a get-together complete with fresh berries and berry desserts.
2. Classic Yard Games
Easy yard games are popular outdoor activities for seniors. Not only are they good exercise, but they also provide a way for elderly people to socialize. Badminton, croquet, Frisbee, horseshoes and shuffleboard are common yard games. If you are planning group activities, consider playing for prizes.
3. Fishing or Boat Rides
Many seniors enjoy fishing, and some are quite skilled at the sport. Whether on a pier, boat or shore, fishing is a good way for seniors to relax and socialize. Those who do not like to fish may enjoy a boat ride. Either way, consider packing drinks, snacks or a picnic lunch. Sunglasses and sunscreen are also a good idea.
4. Flea Markets
Almost everyone enjoys a flea market. Vendors are eager to share their knowledge, so this activity can be a good learning experience for seniors. This outdoor activity is also a good way to pique a senior's interest in a new project or hobby.
5. Flower Gardening
Strolling through a botanical garden is good exercise for seniors, but there is nothing like planting a flower garden to cheer their spirits. In areas where the weather is cold and rainy, indoor gardening is another option. Choose plants that bloom throughout the season and are easy to care for.
6. Metal Detecting
Metal detecting is a unique outdoor activity that seniors can do with their friends or grandchildren. Metal detectors are relatively inexpensive and are available for purchase online. If you are planning group activities, consider a trip to the beach or park — or look online for special metal detecting excursions.
7. Miniature Golf
Miniature golf is a fun source of exercise for senior adults. Consider a morning trip or afternoon outing to a nearby miniature golf course, or set up a portable putting green in the yard. Spin-off games can even be played from a wheelchair.
8. Nature Walks
Nature walks are good exercise for seniors because they can be altered for any level of mobility. People can hike almost anywhere: nature centers, parks, zoos and urban or country routes. The hikes can include birdwatching or photography activities. Comfortable attire, hats, sunglasses, sunscreen, water bottles and insect repellent are recommended.
9. Outdoor Crafts
Many seniors enjoy arts and crafts activities. Take advantage of good weather and take the projects outside to the backyard or a park with a garden or gazebo. If possible, invite a local artist or experienced senior to lead an outdoor painting class.
10. Scavenger Hunts
Scavenger hunts, also called treasure hunts, are fun activities for seniors. Map out a route in the backyard, neighborhood or small community. Create teams and give them a list of clues to use as they race to find the "treasures." Award prizes to the winners.
There is no ads to display, Please add some