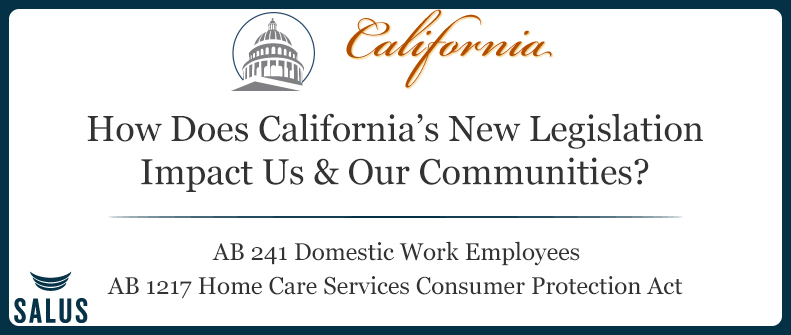 California's AB 241 and AB 1217: How They Will Impact Members of Our Communities
Two pieces of legislation, AB 241 & AB 1217, are currently under consideration in California. If enacted, these bills would increase the cost of home care, jeopardizing their ability to continue to afford necessary care and safely age in place.
AB 241 Domestic Work Employees: Labor Standards
AB 241 essentially enacts a Domestic Worker Bill of Rights, providing measures to regulate the number of hours these individuals are allowed to work, their working conditions and wages they must be paid. The bill addresses things like overtime pay, provisions for meal allowances and how long a home care worker's shift can be. While all of these things have merit and warrant consideration, Wage Order 15 and other such regulations currently offer protection in all of these areas, and they do so without implementing extra costs that must be passed on to seniors, frail and disabled individuals or their family members.
AB 1217 Home Care Services Consumer Protection Act
AB 1217 allows the Home Care Services Consumer Protection Act of 2013 to be enacted. This bill requires that all in home service agencies enter their aides into an online Department of Social Services registry, linking those aides to a particular agency. In addition, all in home care providers would have to be certified and listed as certified in the newly implemented database. The online registry is not necessary, and it offers no protection or advantages to seniors or their family members. Creating this database would increase the number of clerical tasks an in home care agency must complete, resulting in increased hiring of clerical staff and a reduced percentage of agency hiring budgets being allotted to in home care staff. Additionally, AB 1217 compromises the privacy of home care workers by making their work locations and other information public via the database. The cost associated with entering each aide into this registry would be placed on in home care agencies. They, in turn, would have few options except to pass these costs on to consumers. Finally, this bill, if enacted, would require a $6,000 annual licensure fee. This fee likely could not be absorbed by home care agencies without raising the cost of services they provide.
How Will the New California Legislation Impact Care?
These bills are being offered up at a time when baby boomers are entering their golden years, and we are seeing an increase in the number of individuals requiring care. At a time when a large percentage of seniors have an expressed desire to age in place and need assistance in reaching that goal, enacting these bills would essentially force many to turn to assisted living or nursing home facilities rather than remain in their homes. This would be in large part due to cost increases seniors would see in the in home care model. In addition, seniors who were able to afford the increased costs would face other inconveniences. Many would have to allow more than one care provider into their homes because AB 241 would essentially make it impossible for one individual to work a 24 hour shift as the result of necessary meal times and other required periods of rest. Seniors would also see a limited number of qualified in home aides, as it would no longer be cost effective for many individuals to pursue careers in this growing field.
Are AB 241 & AB 1217 an Improvement to the Standard of Care?
At Salus, we are committed to the highest standards of care and safety, and we continue to prove this by voluntarily participating in the Joint Commission's accreditation process and earning their Gold Seal of Approval. Our agency supports measures that benefit seniors and disabled individuals, and we encourage our elected officials to enact measures that promote necessary improvements in the home care industry. AB 241 and AB 1217 are not measures that we support, as the bills, if enacted, would only serve to limit the number of home care providers and raise the costs of these important services. This would reduce accessibility to affordable care and prohibit many seniors and disabled individuals from aging in place. In addition, AB 1217 has the potential to compromise the privacy and confidentiality of our highly valued in home care workers, and we respect their privacy in the same way that we respect the privacy and confidentiality of each client that we serve.
What You Can Do
Many of our clients have asked what steps they can take to speak out against these pieces of legislation. It is our belief that a united stand is the best approach, and that is why we are encouraging citizens in our communities to make contact with their elected officials. Contact information, including mailing addresses, phone numbers and email addresses, can be located at http://findyourrep.legislature.ca.gov/. Through phone calls and emails, members of our communities can express their concerns about AB 241 and AB 1217 and have a serious impact on the way that members of Congress vote on these potentially devastating measures.
There is no ads to display, Please add some