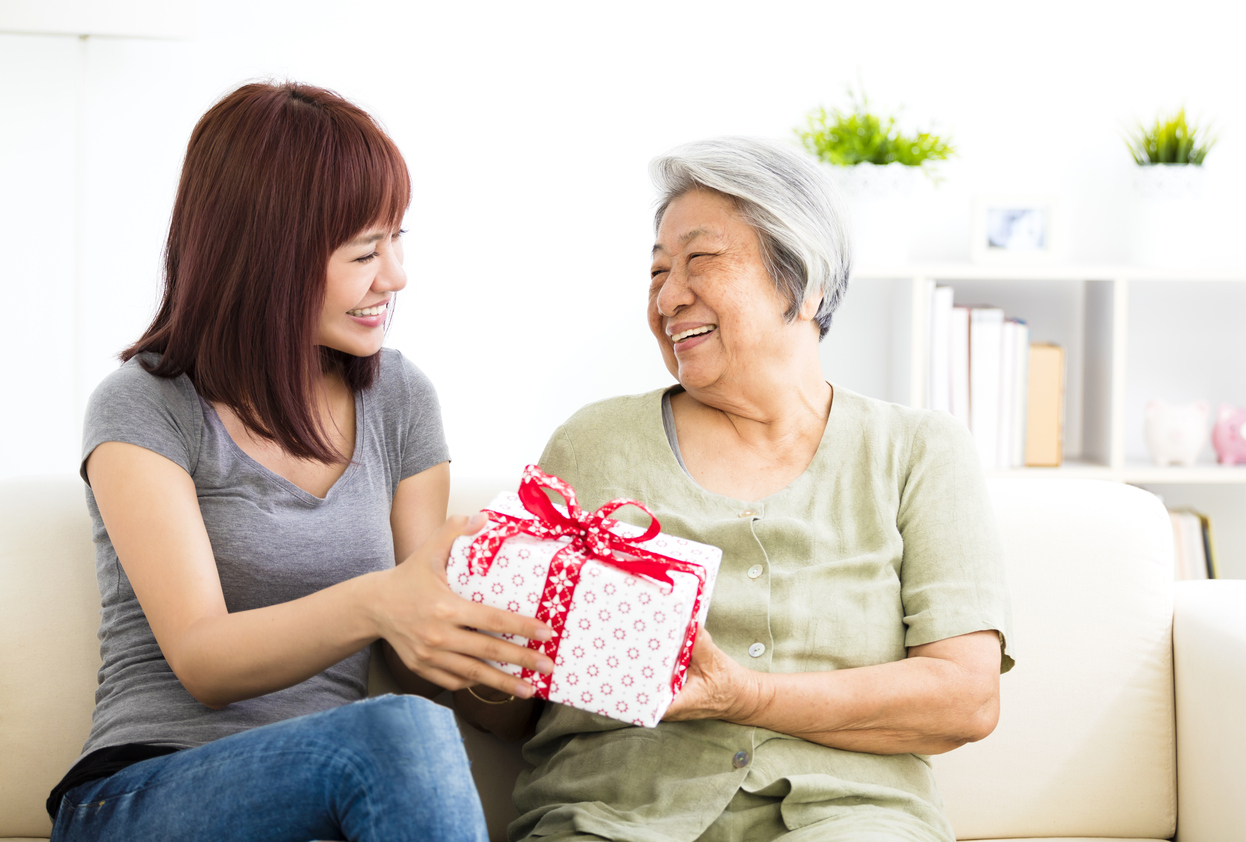 Every day with your mom is one to cherish. This is possibly no more evident than after a diagnosis of Alzheimer's. Since this disease slowly steals memories and robs a loved one of cognition, watching them deteriorate is often difficult. However, hope remains when you share special times, see a slight smile or are acknowledged with a hug or other sign of affection.
Gifts when Mom has Alzheimer's
For many seniors with Alzheimer's, these small acknowledgments are encouraged when a loved one brings them a meaningful gift. While it is sometimes difficult to determine what kind of gift mom might appreciate, finding something special that helps to brighten her day or connect with you is likely easier than you think. Here are a few ideas.
A Comfortable Bathrobe
A bathrobe is more than just a practical piece of clothing to put on after a shower. It is easy to wear and even put on independently for a person who typically needs a higher level of assistance. Bathrobes provide warmth on a cool summer evening. Their weight and texture are often inviting to seniors with Alzheimer's. If the option is available, plan to hang the bathrobe on the back of a door in the bathroom or bedroom so it is easy to find. Perhaps also choose one that is brightly colored in a shade your mother loves.
Sweatpants and T-shirts
Along the same lines as a bathrobe, sweatpants and t-shirts are easy for mom to put on with little or no assistance. They do not have buttons, zippers or ties, and as a result, they help mom to feel more independent when getting dressed. Sweatpants are also easier to take off with their elastic waist. This is a significant advantage for a person with Alzheimer's who usually needs assistance while toileting or undressing in the evening.
Talking Photo Albums
Photo albums make wonderful gifts for moms, but as mom starts to lose her memory, recognizing even familiar faces is sometimes challenging. With a talking photo album, each page provides auditory information about who is in the picture. Use these prompt to remind her of names, relationships, favorite places and even how much family members love her.
Robot Pets
As mom's Alzheimer's advances, taking care of a pet is increasingly challenging. This may mean that the time has come or passed to re-home a beloved animal companion. While this choice is difficult, it is sometimes necessary for the safety of your mom and the pet. If your mom has recently experienced this, a robot pet may be a good gift. Robot pets provide some of the same benefits as living pets but without the work or care needs. If you choose this gift, watch to see how your mom responds to it. In some cases, it may make her uncomfortable and could be the wrong choice. However, many seniors with Alzheimer's find companionship and even love for their robot pets, and this can improve quality of life.
Puzzles
Continuing to work the mind is a proven way to slow the progression of Alzheimer's and help seniors to retain cognition. One way to do this is by working on puzzles. While mom might have a difficult time completing puzzles that are smaller and more complex, children's puzzles with larger pieces are a great choice. Some companies even make larger piece puzzles specifically for seniors with dementia. Mom can complete them independently if she chooses or with the help of a loved one or professional caregiver.
While all of these gift ideas are lovely when mom has dementia, the most important gift you can give her is your attention. Salus Homecare San Fernando Valley encourages you to spend quality time with your mom on Mother's Day and throughout the year. Companionship is known to stimulate the mind, improve mental health and might even slow the progression of Alzheimer's. Ultimately, this is a gift for you too – more time with the person you love.
There is no ads to display, Please add some