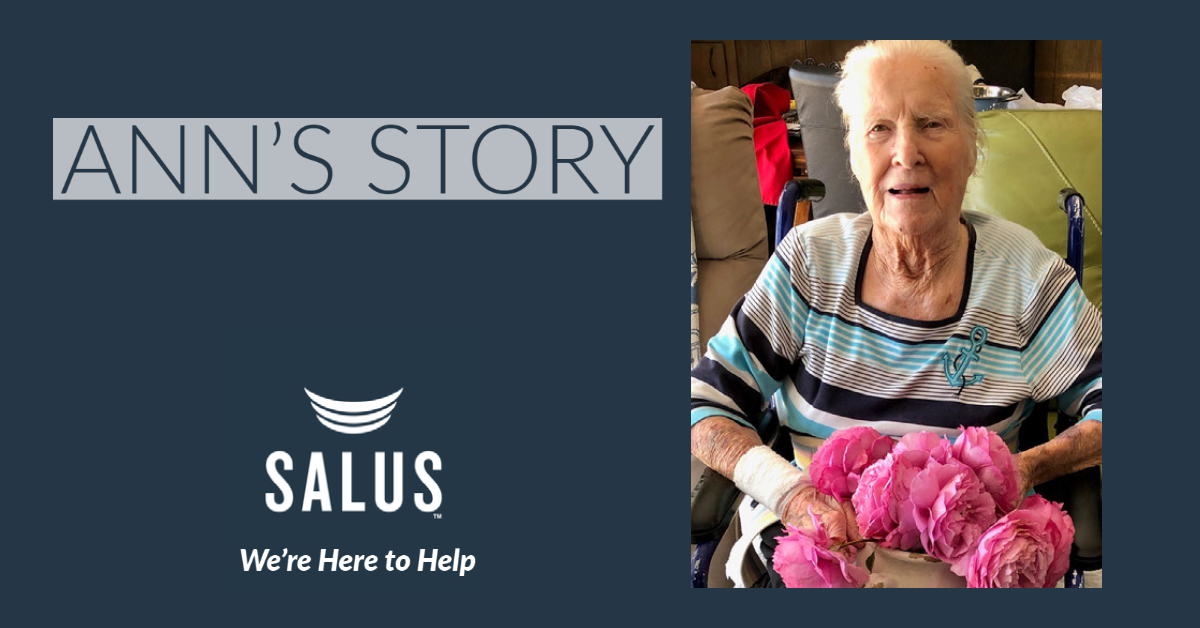 When the time comes that an aging loved one needs care, the reality of the weight of this responsibility can hit you quickly. There are many decisions to be made. There are new things in life to balance, and oftentimes, families have important questions about what the future will hold.
Ann is a family caregiver who found herself in just this situation when her parents needed extra support to remain at home. Today, her mother Monica receives 24-hour support from Salus Homecare of Los Angeles. This is Ann's story.
Dad's Illness
About five years ago, Ann's world shifted when her father became ill and began wandering.
"When Dad was sick, he went into a hospital. This was a hospital that is highly regarded for the care they provide. For a time, Dad was in ICU. His sleep schedule was out of whack. While the nurses provided him with care, they didn't always wake him for things like physical therapy. They also sometimes let him skip meals."
Ann continues, "I felt like Dad's schedule not being in line with the hospital's schedule meant that he didn't always get the care that HE needed. This led to the realization that life in a nursing home might be like that. I made the decision to move into my parents home and provide care for them. For me, the right decision was to keep them home."  
Getting the Help I Needed
The added responsibilities of caregiving soon weighed heavily on Ann. She recognized that her parents' needs were more than she could physically or emotionally manage essentially alone, with the minimal support that her siblings were able to provide. This is when she made the decision to hire a professional caregiver.
When she came to the realization that in-home care was what her family needed, Ann considered the benefits of using a company to help with her parents' care needs versus hiring someone on her own. She chose to go with a company, but the initial company didn't quite live up to her expectations. Then, a conversation with her sister-in-law (whose father had been diagnosed with a life-limiting form of cancer) led her to Salus Homecare of Los Angeles. That was over 4 years ago, and today, Ann's mom Monica enjoys 24-hour support from a core team of four Salus caregivers.
Differing Care Needs
"Dad was a wanderer, but Mom is different. While his decline was steeper and shorter, hers is slower and longer. As part of this decline, about two years ago, when Dad passed, Mom stopped walking. She developed a fear of falling. Keeping her mobile and active has been a challenge. Managing her general hygiene and toileting needs, keeping her hydrated, feeding her, and keeping up with her overnight needs is as well. I know I can fully trust my Salus caregivers with all of these tasks."
Salus Earned My Full Trust
"(Her caregivers) are really good with her, and they work with her. That's not always easy, but I know I can fully trust them. They have a way of negotiating with her, and they keep her engaged. Lately, that means listening to hours of MGM musical sing-alongs. Mom is mesmerized by the songs, and no matter the tune, her caregivers are always happy to sing along."
Respite Support
Ann spent some time considering her mom's personality, which she describes as "difficult" some days. She said that her relationship with her mother has, at times, been stormier than the one she had with her father, and that has made it challenging to provide her mom with the care she needs and deserves. Her team of caregivers is there to help.
"My caregivers are there for Mom, and they're there for me too. There's been times when they've helped talk me off a ledge. They know when to tell me to just walk away and let them take over for a while. It's a good team effort, and their support has been a huge benefit. Their respite support means I can take a break, "chill" a bit, visit with my sister, or simply enjoy a breather."
Physically, Ann says that home care has meant that her mom is able to avoid the many negative physical and emotional health implications that remaining in bed might lead to.
"Mom refuses to use a hoyer lift. She seems afraid of it, but I have some back issues so I cannot transfer her by myself. Her caregivers are such experts in this area, and they time things so that she's always up in a chair and out of bed for some portion of the day. If we didn't have Salus, (Mom) would have spent the past 1 ½ years in bed."
Satisfaction with Salus
Overall, Ann expresses great satisfaction with her home care choice and says that while she has, at times, considered alternatives, she recognizes the value that Salus provides.
"Right about the time that my dad got sick, my neighbor's husband became a quadriplegic and needed 24-hour care. My neighbor went the route of finding a caregiver on Craigslist, taking on the responsibility for interviewing, background checks, payroll, taxes, etc. If her caregiver is sick, she has to find a replacement or make due. If her caregiver quits, she has to start the process all over again. I chose Salus, and the benefit in that is I don't have to sweat those things. I never have to worry if a caregiver is not available. Salus always has a back-up plan at the ready. I didn't want to do what my neighbor did or worry about the things she has to worry about. With Salus, I never have to."
In closing, Ann again expressed her appreciation for Salus, her mom's caregivers and the support that she and her mom receive.
"This is working. We're lucky. I have a team I like and care that I trust. I'm not sure I could duplicate that if I went somewhere else."
There is no ads to display, Please add some