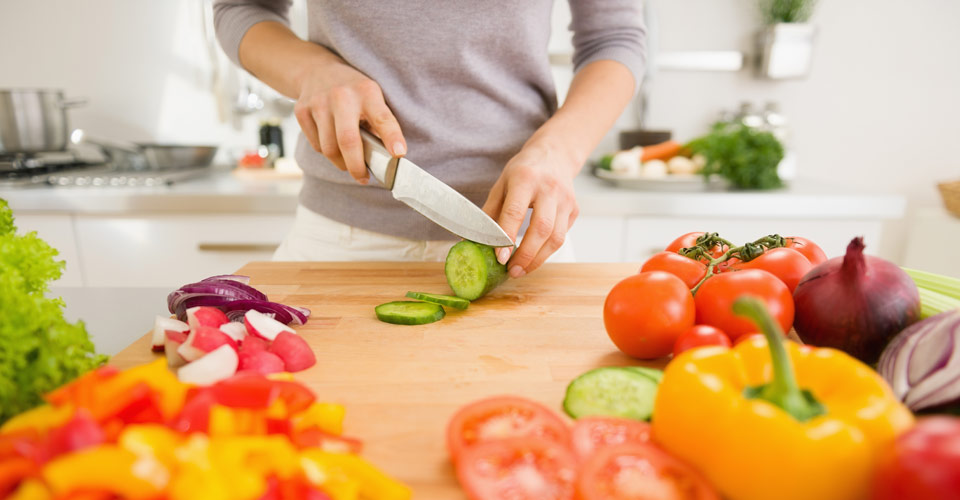 As we age, it sometimes becomes difficult to prepare nutritious meals. Tasks like standing at the stove, cutting foods and operating an oven can be challenging when conditions like arthritis, dementia or diabetes are present, and this leads some seniors to believe that their only alternative is to move to a facility even when their preference is to age in place.
An Unbalanced Diet
When seniors are unable to prepare meals that are nutritionally sound and satisfying, many resort to eating more processed foods or not eating at all. This type of lifestyle contributes to obesity, weight loss, mismanaged diabetes and high blood pressure and many other health concerns. This is why healthy eating is so essential and must be incorporated into a senior's daily lifestyle.
Meal Delivery
While many communities offer meal delivery services to seniors, there are some problems with this concept. Meal delivery is often only available once or twice a week, and there is a long waiting list for this program in many areas. Most of these programs also offer a set menu and do not allow seniors to order foods specifically tailored to their health concerns or preferences. Also, most meal delivery programs only provide frozen foods, so seniors do not benefit from the many health benefits of eating fresh. Finally, many meal delivery programs have strict program restrictions, and some even require seniors to meet certain financial or other guidelines before they qualify.
Personal Chefs for Seniors
Some communities are starting to take the problem of healthy eating for seniors seriously, and programs like Wisconsin's Chefs for Seniors have been developed. This innovative concept provides the services of a professional chef to seniors in their homes for a few hours a week. The chefs prepares healthy, fresh meals that meet any nutritional guidelines put in place by the senior's physician and are compatible with the dietary preferences of the customer. Programs like this also offer assistance with grocery shopping and clean up after meals are prepared in order to simplify this important task and make it easier for seniors to continue aging in place.
In Home Care and Other Alternatives
Bringing a personal chef into the home is an effective way to help some seniors to maintain a healthier diet, but this idea is not without limitations. Chefs are only trained to prepare meals, and many seniors have needs that extend beyond this. Some need help eating, and others may require medication reminders at mealtime. Seniors who are unable to stand to prepare a meal may also have cognitive deficits or difficulty ambulating, completing personal care tasks or keeping up with housekeeping demands. Even when meal preparation is the only need a senior has, Chefs for Seniors is costly, only available in one small area of the country and open to a limited number of customers.
For seniors who cannot take advantage of this program or have more extensive needs than this program assists with, flexible, cost effective in home care providers are often a viable solution. With the help of a reliable, professional in home aide, many seniors enjoy freshly prepared, medically appropriate and tasty meals and receive important companionship at mealtime. In home aides also assist with tasks like grocery shopping, cleaning up after meals are prepared, helping seniors to ambulate to the dinner table and providing assistance with essential activities of daily living.
Aging in place is possible even for seniors who have difficulty preparing meals or completing other important daily tasks. At Salus Homecare Los Angeles, our mission is to provide coordinated, home-based services that help seniors to remain independent. We are nationally accredited, and our employees are held to the highest level of accountability for safety and quality of care. For more information or to begin receiving services in your own home, call and schedule your free, no obligation consultation.
There is no ads to display, Please add some