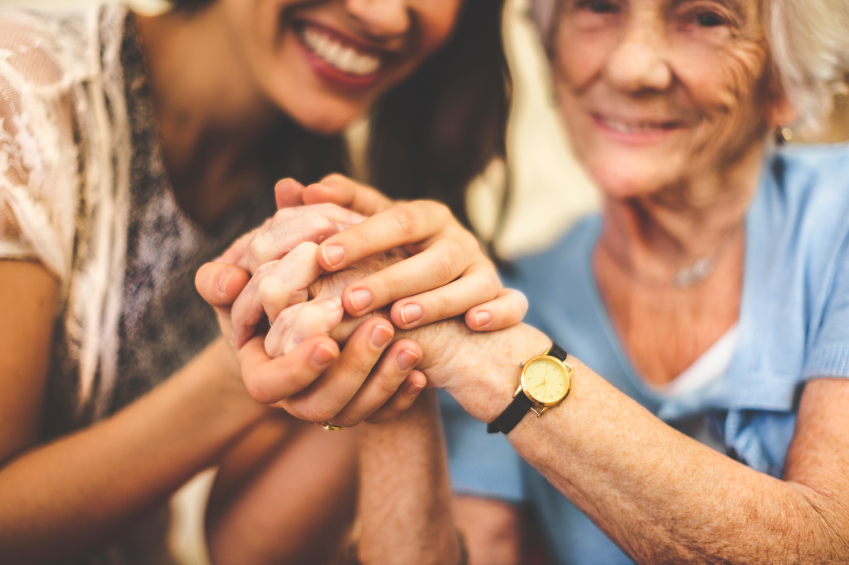 The National Academies of Science, Engineering and Medicine recently published a report on families in America caring for aging loved ones. The evidence-based findings brought to light some somber realities that family caregivers are facing every day.
The Commitment Family Caregivers Make
Family caregivers commit a lot of time to meeting the needs of aging loved ones, to the tune of devoting 253 hours per month to caregiver related tasks. Many provide care to higher needs seniors for, on average, five years. While acting as a family caregiver is rewarding, it is also sometimes thankless, and making personal sacrifices is common for those who take on the responsibility. Many will miss time from work, forgo career advancements due to the fear of not being able to juggle all their responsibilities and use benefits including sick or vacation time to take care of their loved one instead of taking that time for themselves. The report finds that lost wages and benefits top $300,000 over the lifetime of individuals 50 and older who leave the workplace to care for a senior family member.
Diminishing Health of Family Caregivers
In addition to the economic costs of taking on the role of family caregiver, these individuals make sacrifices related to their own mental and physical health too. Burnout and isolation are common. Depression and increased risk of heart disease, diabetes and other chronic health conditions also plague many of our country's most devoted family caregivers because they spend more time focusing on others than they do on themselves. A Stanford University study even found that 40% of Alzheimer's caregivers pass away before the loved one in their care does, often from stress-related health conditions.
Challenges with Post-Hospitalization Care
The load placed on a family caregiver's plate is often compounded after their loved one experiences a hospitalization. Medicare and private insurance policies sometimes place enormous pressure on doctors and hospitals to release patients quickly and send them home to complete rehabilitation. If discharge planning is not completed in an effective manner, family caregivers often take on medical responsibilities that they are not prepared or trained for. Their duties might include managing feeding tubes, draining catheters, performing wound care, delivering injections and recording glucose or blood pressure readings. The solution to this is simple, coordinated care from a professional home health agency like Salus. Sadly, some caregivers are never made aware of this option or the Medicare and insurance benefits that often make it a cost effective solution.
Finding Solutions
Seniors are living longer in our society due to modern healthcare and scientific innovations. While positive, this does increase the toll placed on family caregivers and the negative impact that the stress and isolation they face has on the individual, family and society. As a society, we are aware of this problem, so what can we do about it?
The Value of Respite Care
First, caregivers need support. Respite time is a necessity for everyone in this roll, and it is something we should all advocate for more of. Friends, other family members, neighbors and religious or spiritual institutions can all reach out to provide family members with regularly scheduled relief weekly, bi-weekly or on a monthly basis. Professional caregivers from an accredited agency like Salus Los Angeles can also be hired for even a few hours a week, giving the family caregiver a safe option for enjoying necessary time away from home.
Family-Centered Healthcare
Professionals in the healthcare industry can also assist in lightening this burden by providing family-centered care to seniors who are in need of assistance as they continue to age in place. Recognize the burden that family members face in providing care, advocate for changes to the system that will make home care more accessible and provide these family members with the resources they need to find quality home care and home health care.
Assessing for Hospital Discharge
If a senior has an unmanaged medical diagnosis or has been recently discharged from the hospital, it is important for discharge planners, doctors and nurses to properly assess the level of care necessary for the individual to safely remain at or return home. Many family caregivers are not trained or prepared to take on specialized medical tasks, and home health, even for a short period of time, can ensure that the senior receives necessary care while also providing family members with a professional resource for training and support.
There is no doubting that family caregivers need more support, and providing it to them benefits the seniors in their care and the entire family unit. Salus Homecare in Los Angeles advocates for changes to laws that impact family caregivers and encourages everyone to reach out and find the support they need to stay healthy, happy and effective in their new role. If we can help, let us know. Our 24/7 hotline is always open – 888-725-8742.
There is no ads to display, Please add some