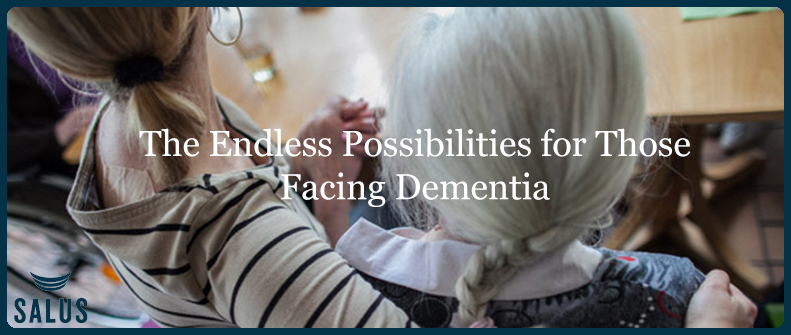 In the Netherlands, a place exists where every single resident has dementia. While this may sound like a somber place to be, it is actually filled with hope, happiness and a perspective on humanity that puts a new face on the reality of Alzheimer's and dementia.
An Uncomfortable Topic of Conversation
Dementia is a topic that few of us want to discuss, but thinking about this degenerative brain illness is essential. While few of us want to believe that dementia is a reality we will face in our lifetime, statistics show it is increasingly possible for many Americans. As we continue to enjoy longer life spans, more of us face the risk of developing some form of dementia. In fact, scientists believe that the number of individuals facing Alzheimer's or another form of dementia will double by the year 2030 and triple as 2050 approaches. When taking these numbers into account, it is easy to understand why we must begin to understand dementia, discuss it as a possibility and look for ways to improve the livelihood of those facing debilitating cognitive deficits.
Institutional Life: The Only Option for Those with Dementia?
While some would like to believe that the only future for someone with Alzheimer's or another form of dementia is an institutionalized life, behind locked doors and filled with countless sedating medications; however, looking closely at a place like dementia village allows us to see another possibility, one filled with hope and happiness. While dementia village does not exist to date in the United States, and placing a loved one in such a place is cost prohibitive for many, there are certain elements we can take away from the experience individuals enjoy there and implement into the lives of all individuals facing dementia.
Safety First
First, those with Alzheimer's need safe surroundings. When faced with later stage Alzheimer's, it is easy to become lost, forget where you live or become confused even in the most familiar of surroundings. For that reason, individuals with dementia should always be supervised, and the home should be modified in a way that provides safety. One way to provide supervision and safety for a loved one when you must step away from home is by enlisting the help of a qualified Salus in home care provider in Los Angeles. Our providers offer 24 hour supervision in a way that is comfortable for the individual afflicted with dementia. They use friendly redirection, make positive suggestions and offer non-invasive monitoring to provide a safe and secure home environment.
The Importance of Activity for Individuals with Alzheimer's
Second, individuals with dementia benefit from regular activity that stimulates the mind and prevents further cognitive deterioration. Family members can assist an individual with stimulating the mind by offering assistance with a crossword puzzle, encouraging a loved one to continue participating in a favorite activity or playing music and singing songs. Another way to offer cognitively stimulating activity is by creating a plan of care that includes hobbies and interests such as these. At Salus, including socialization and mental stimulation is always a part of the plan of care created for an individual afflicted with dementia. We understand the value that stimulating the mind offers, and we utilize activities to improve quality of life and slow the progression of Alzheimer's.
Keeping Up Appearances
Finally, individuals afflicted with Alzheimer's or another form of dementia are often happier when they are able to keep up appearances. While getting dressed, taking a shower or brushing your own hair and teeth might seem like simple tasks to most of us, they are often difficult or impossible for someone with dementia. When individuals stop taking care of their appearance, they risk depression, suffer further cognitive decline and increase their susceptibility to physical illnesses. In many cases, family members find it emotionally difficult or even physically impossible to assist with many of these tasks. At Salus, we provide individuals with in home care providers who can assist with activities of daily living including bathing, dressing, toileting and keeping up with other personal hygiene needs. Our aides provide as little or as much assistance in these areas as necessary, and they always encourage individuals to maintain their highest level of independence.
While providing all individuals afflicted with dementia with a place like dementia village to call home is not possible at this time, a safe and comfortable alternative is to promote aging in place. With the assistance of quality in home care providers, such as those offered by Salus Homecare, an agency that continues to earn the Gold Seal of Approval from the Joint Commission, those facing mentally debilitating illnesses can enjoy the freedom and comforts of home in a safe and healthy way. If you would like more information about how Salus can assist your loved one, give us a call at 1-888-725-8742 to discuss our services today.
There is no ads to display, Please add some