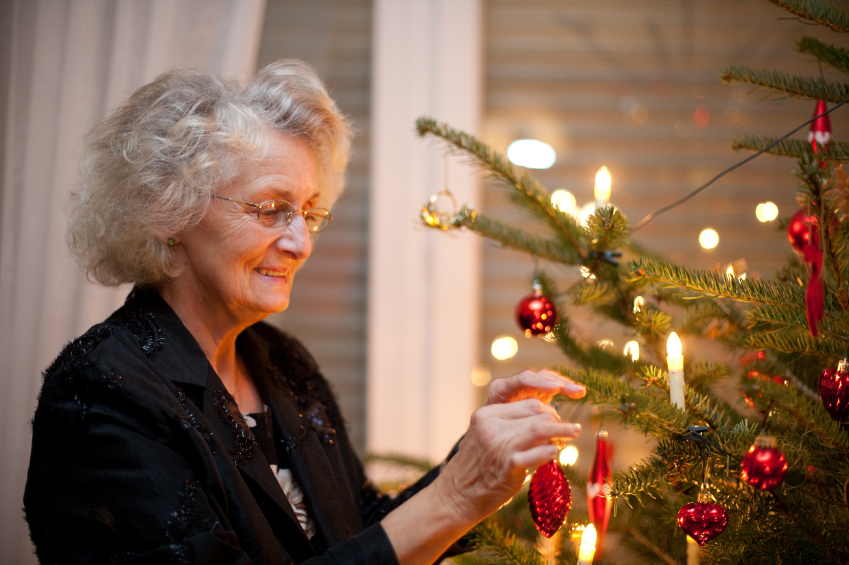 When a loved one is diagnosed with Alzheimer's or another form of dementia, it often causes stress for the family. This is especially true around the holidays. As families prepare for company, consider time honored traditions and decorate the house for all the festivities, they often wonder where their loved ones with cognitive deficits will fit in and how they can safely enjoy all of the holiday festivities.
Honor the Individual
As the holidays roll around, view your loved one as an individual first. Despite a diagnosis of Alzheimer's, a senior continues to have individual thoughts and feelings, and respecting these shows a certain level of consideration for the person. Give meaningful gifts that remind your loved one of past events or important memories. For instance, even if your mother cannot verbally articulate that a new purse reminds her of one she had as a child, the connection the purse makes to a past memory can be significant and meaningful. A journal is another wonderful gift that can help individuals with Alzheimer's, especially those who are in the earlier stages, to write about important memories, thoughts and fears and figure out the legacy they would like to leave behind.
Decorating Your Home
When decorating your Pasadena home for the holidays, it is also important to consider your loved one. If there is a special ornament or decorative item that has meaning to the senior in your life, display it. Also honor any significant traditions that he or she enjoyed in past years. By keeping memories and traditions alive, you can show a commitment to your loved one and an appreciation for the important role he plays in your life.
Reducing Stimulation
Family celebrations are a busy time, and sometimes a little extra help goes a long way when it comes to including a loved one with Alzheimer's in all the festivities. As you celebrate, remember that the extra stimulation of parties and gathering can sometimes be a little too much for a senior with dementia. Make sure to have a comfortable place that your loved one can escape to when necessary, and consider hiring a Pasadena in-home aide to escort the senior to holiday celebrations, religious celebrations and other important events. This ensures that he has someone to attend to his needs, watch for signs of over stimulation and provide individualized companionship even if friends and family members are distracted by the seasonal celebrations.
Respite Care in San Gabriel Valley
While keeping a loved one with Alzheimer's involved in festivities is important, there is also value in giving family caregivers a break from their duties. For many family caregivers, 24-hour days filled with chaos are common. Even if they regularly receives time off for work or other personal commitments, few family caregivers spend time relaxing and enjoying their time away. Enlist the help of a professional San Gabriel Valley respite care provider to to allow family caregivers to relax and freely partake in all of the holiday festivities. Respite care is a cherished gift that few family members receive but all would appreciate.
Including your loved one with Alzheimer's in holiday celebrations is an important way to show you care. When a little extra help is needed to make this task easier or provide valuable respite time for a cherished family caregiver, Salus Homecare of San Gabriel Valley is here to help. With flexible scheduling and no contract requirements, we can make the holidays more enjoyable for you and your loved ones. Call us today to schedule your free, no obligation consultation.
There is no ads to display, Please add some