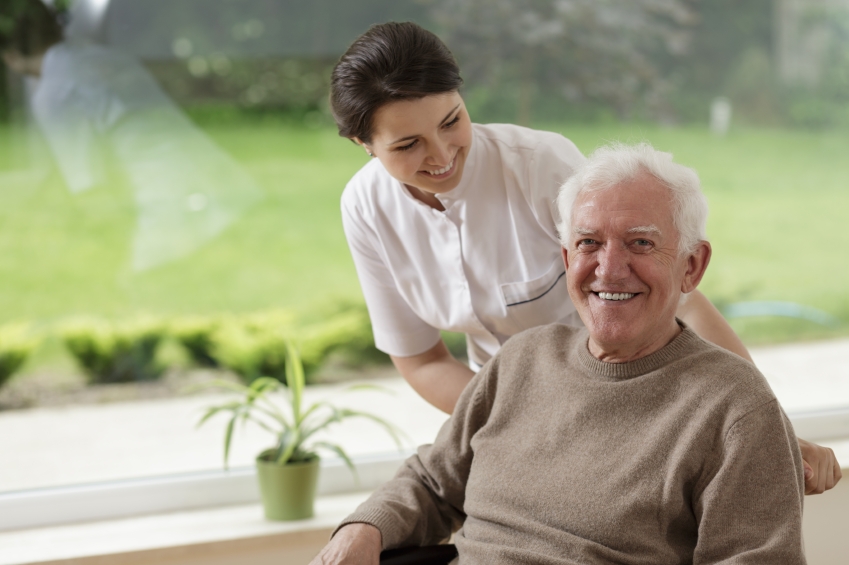 For many seniors, the time comes to make a decision about continuing to age in place. Overwhelmingly, seniors express a desire to continue living in their homes. First and foremost, safety and health must be considered when making a choice about living arrangements.  To help make that possible, it is important to ensure the conditions of the home are compatible with this goal.
Many of the changes that help seniors to avoid falls and other situations that compromise safety are inexpensive or simple do-it-yourself projects. By thoroughly analyzing each room in the home, you can look for these small changes and also consider more major renovations if the budget allows for them.
Lighting
Proper lighting is essential for everyone, and this is especially true for seniors who may have less than perfect eyesight. Add night lights or motion sensor activated lights to hallways and stairwells. Place touch lamps on tables to make reading, reviewing bills or enjoying a hobby easier. Consider under cabinet lighting in the kitchen for better visibility when prepping and cooking foods. Make sure that all bulbs in the home are functioning. Also, take advantage of natural light by cleaning windows, removing heavy blinds and perhaps, adding extra windows in very dark rooms.
Smoke and Carbon Monoxide Detectors
The National Fire Protection Association states that after age 65, people are twice as likely to die or become injured in a fire. Many seniors cannot escape a home quickly in the event of a fire due to lack of mobility, poor eyesight or hearing, cognitive decline or other physical and mental health conditions. To help alert seniors about fires and carbon monoxide early, install smoke and carbon monoxide detectors in the home. Ensure detectors are present in the kitchen, bedroom and hallway. Check to make sure the detectors are working, and change the batteries out at least once a year.
Should a fire occur, having easy access to a small, handheld fire extinguisher is also essential. Make sure the senior is aware of how to use the fire extinguisher or has someone in the home to help. Also, check it regularly to ensure it has not expired and is in good working order.
Handrails and Ramps
Many seniors struggle with mobility due to balance issues or instability. This often makes it especially difficult to safely navigate uneven surfaces such as stairs. Sturdy, well mounted handrails give seniors something to hold on to and help to prevent falls. Ramps, elevators and stair lifts offer additional safety and security on steps and are worth considering if budget allows.
Bathrooms
As a room that is often wet and slippery, the bathroom is one area of the home where many falls happen. Help prevent these accidents by installing a grab bar in the shower. A simple shower seat is also handy to give the senior a place to rest while bathing. Non-slip bathmats, raised toilet seats, lever faucets and a sprayer attachment for the shower head make the bathroom increasingly efficient, safe and comfortable.
Flooring
Floors seniors walk on can pose challenges and dangers if not properly maintained. Walk through the home while looking down. Ensure that there are no loose floor boards, slippery rugs or uneven surfaces. Correct any noted problems by repairing or replacing flooring or simply taping down rugs so they are secure. In addition, remove clutter, cords and unnecessary objects from pathways. This protects seniors by giving them access to clear walkways that are easy to navigate.
Additional Assistance
While home modifications are important and valuable, remember they only compliment and cannot replace proper support. Having someone to assist with activities of daily living, preparing meals or helping with safe ambulation is often the key to supporting aging in place. This is especially true when mental and physical health are in question. Family members, volunteers and professional in home caregivers offer excellent resources for this type of assistance part-time, full-time or even on a live-in basis.
Seniors who are able to remain at home often report a higher quality of life, increased happiness and a sense of independence. Supporting this goal is noble. Just remember that safety must always come first. Consider these simple home modifications as a starting point. After the modifications are complete, continue to look for clues that might lead you to believe extra assistance would be beneficial. If you have questions or need support, the professionals at Salus Homecare San Gabriel Valley are always here to help.
There is no ads to display, Please add some