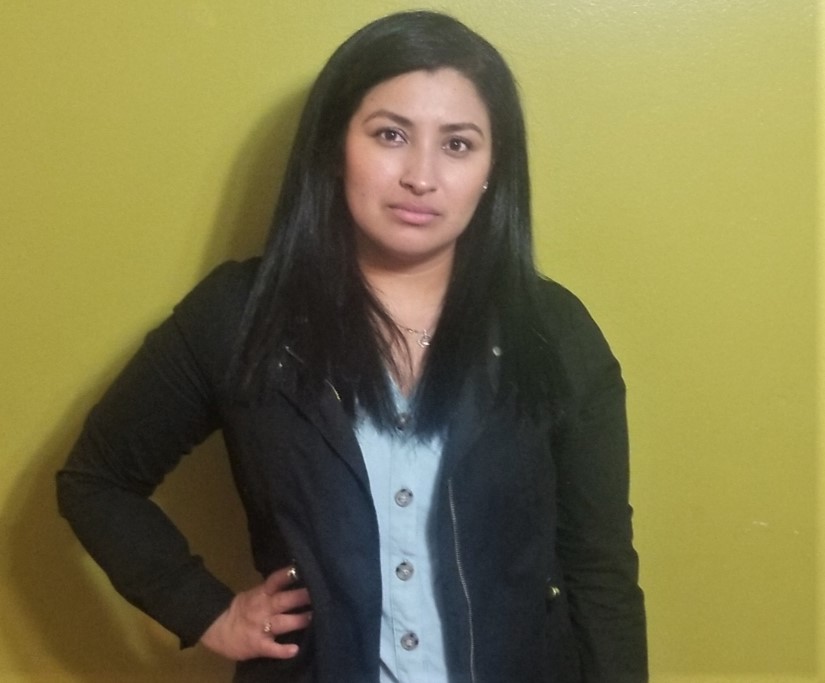 As a successful home care company in Los Angeles County, Salus owes a lot to our reliable and professional workforce; a team that is committed to keeping patients safe and healthy at home. Hiring the right people is crucial, as is coordinating schedules, providing for emergency coverage when necessary, and documenting and communicating important information to family caregivers, patients, and our team.
Jorleny Cardoza is our North Los Angeles Staffing Coordinator, and she plays an important role in ensuring our staffing needs are met and our clients and caregivers remain safe and healthy.
Jorleny joined Salus as a caregiver in July of 2016. Her organizational skills, responsible nature and professionalism were quickly realized, and she was soon offered a promotion, becoming the Staffing Coordinator in San Fernando Valley. Today, her position has expanded to providing coverage for a larger area, and she is responsible for meeting the staffing needs for our homecare clients in North Los Angeles.
We recently had the opportunity to sit down with Jorleny and talk to her about her role at Salus, her day to day schedule, what she looks for when hiring caregivers, and how COVID-19 has impacted her job.
Salus: Talk to me about your day-to-day schedule at Salus.
Jorleny: "Honestly, no two days look alike. Much depends on what's going on with the clients and our caregivers. Typically though, I begin with a review of our on-call report to see what our staffing availability looks like. Based on that, there's often a need for some follow up to confirm caregivers' shifts and clients' needs. Most days, I spend some time returning calls to family members to answer questions or address any scheduling concerns. There's also often paperwork related to insurance claims, recruiting and hiring tasks for our Los Angeles homecare team, and of course, providing updates to the team. Communication is such a big part of my job every day."
Salus: You're responsible for such a wide variety of tasks, but so much of what you do revolves around the team that you are responsible for hiring and scheduling. Can you speak about how you make important decisions regarding hiring and scheduling caregivers? What skills do you have that help you to perform these roles in a way that benefits the clients most?
Jorleny: "Yes, every member of our team plays an integral part in ensuring the clients needs are always met. Here's where I feel I come in. Due, in part, to my previous experience as a home caregiver, I have a unique understanding of the job responsibilities involved in caring for a senior at home. I know that these patients rely on their caregivers to be experienced and trustworthy. It's not always easy to let someone who is initially a stranger walk into your home and support you in such a personal way, but the right caregiver makes a connection, builds that trust, and helps the client to feel secure. Those are the traits I look for when hiring a caregiver, and they set the stage for the expectations I have for our caregivers after they're hired too."
Salus: Is there one thing that you enjoy most about your job?
Jorleny: "Absolutely. I love knowing that Salus Homecare of Los Angeles has provided the highest quality care to our clients and excellent customer service to their families. Their satisfaction really brings me joy. Knowing that I played some small part in that motivates me to always do my best and to provide our caregivers with all that they need to do their best too."
Salus: And the most challenging part of your job? What would that be?
Jorleny: "I find it really challenging to know that a senior needs care but can't afford it. I always try to help families to avoid this when I can, and one way that I'm able to do that is by assisting them with their long term care claims processing. The paperwork can be so complicated, and it's easy for a family member to miss a step or not understand how to fill the paperwork out correctly. Accuracy is key to getting claims approved, and I'm proud to say that I've been successful in helping a lot of families. No client that I've assisted with long term care paperwork has been denied."
Salus: That's really impressive, and one more way in which you've proven to be an asset to Salus Homecare and the families we care for! I'd like to shift gears for a minute and talk about COVID-19. Homecare agencies have seen some big changes related to the virus. Has it impacted your job in any way, and if so, how?
Jorleny: "Yes, COVID-19 has definitely impacted my job. I've always been very organized when it comes to documentation and communication, and those skills have come in very handy throughout this pandemic. I'm now responsible for scheduling COVID-19 testing for caregivers in North Los Angeles (at the request of the family or if there's a known exposure). I have to ensure that tests are scheduled in a timely manner, the test results are documented correctly, and appropriate information is communicated to the families. I also support our caregivers in staying safe with proper PPE usage (and understanding any changes in usage recommendations as directed by the CDC and local health authorities). An important part of my job has always been to help keep families and caregivers safe, and since COVID-19 came into play, that part of my job has become more important than ever."
We'd like to thank Jorleny for spending a little time speaking with us about her role at Salus. She has proven to be a driven, organized, detail-oriented and flexible member of our team. We value her and are so proud to have her as part of the Salus family.
There is no ads to display, Please add some