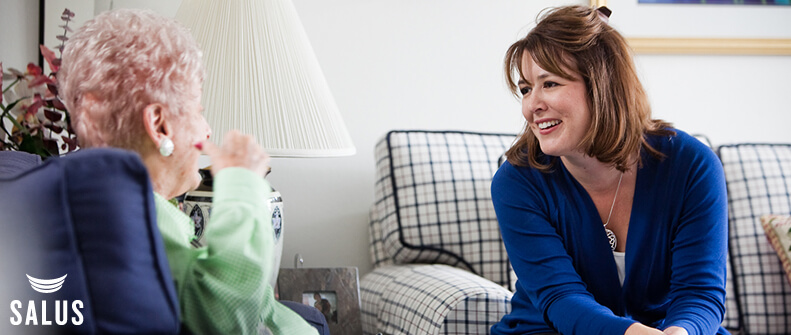 Distinguishing Between In Home Care and In Home Health Care
Loved ones charged with caring for an ill or elderly individual are often faced with difficult healthcare decisions. Sometimes, these decisions involve choices regarding in home assistance for chronic illnesses, acute conditions or everyday care and safety needs. When faced with these decisions, it is common for individuals to become confused about what services are available and what level of care is appropriate based on an individual's circumstance. At Salus Homecare, our goal is to assist in providing professional information to assist in situations such as these.
When choosing to bring someone into the home to care for your loved one, there are two basic types of services available. These services include in home care and in home health care. When hiring an in home care provider, you are basically hiring a professionally trained individual who does not possess a medical license to assist with activities such as dressing, bathing, toileting and other safety or care concerns. Many of these activities are commonly known as activities of daily living (ADLs for short). In home care providers cannot assist with medically prescribed services, dispense medications or provide therapeutic treatments. For that level of care, hiring an in home health care provider is necessary.
An in home health care provider is a licensed individual, and they are trained in a specific discipline of healthcare. Many are skilled nurses, but therapists and other medical professionals can also be grouped into this category. To receive in home health care, an individual usually must have a prescription from their primary care physician. The individual is then evaluated by one of our Medical Social Workers to ensure the proper care providers are sent to the home to assist them. While these individuals are licensed care providers, some of their services can overlap with those services provided by an in home aid. For instance, our licensed care providers will assist with ADLs and complete a minimal amount of light housekeeping tasks when necessary. They will not, however, transport a client or provide housekeeping services when other medical services are not required. While the cost is typically higher for a home health care provider, Medicare and other providers often assist with the expenses. Our staff will also continuously monitor the individual's needs, coordinate with the family and contact medical providers to ensure this level of care remains necessary.
This table explains some of the differences between the two types of care providers:
| |   In Home Health Care |   In Home Care |
| --- | --- | --- |
| Requires Prescription | X | |
| Licensed Care Providers | X | |
| Wound Care, PICC Lines or Respiratory Services | X | |
| Provides Medication Reminders | X | X |
| Typically for a Short Period of Time | X | |
| Typically Private Pay | | X |
| Assists with ADLs | X | X |
| Light Housekeeping | Minimal | X |
| Transportation Assistance | | X |
When selecting in home care for an ill or elderly relative, review this article and consult with one of our professional staff members. Our trained professionals will provide a thorough explanation of available services and answer any questions you might have. It is also important to have your loved one evaluated for their individual level of care needs. This ensures safety and security for your loved one and peace of mind for you.
There is no ads to display, Please add some