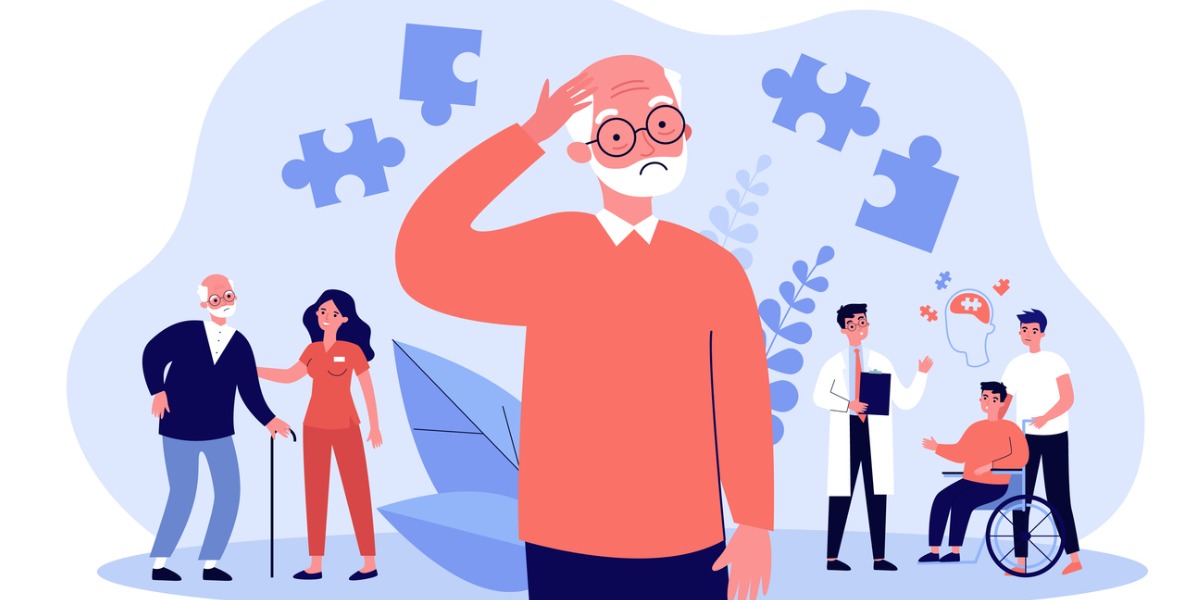 Seniors with Alzheimer's or other forms of dementia require specialized care, especially as the disease progresses. Navigating memory care options can prove difficult for some families.
Dementia home care and memory care facilities are two common options families explore after a senior is diagnosed with dementia. Understanding both can help to simplify the decision making process and support the higher quality of life that your loved one deserves.
What is Home Care?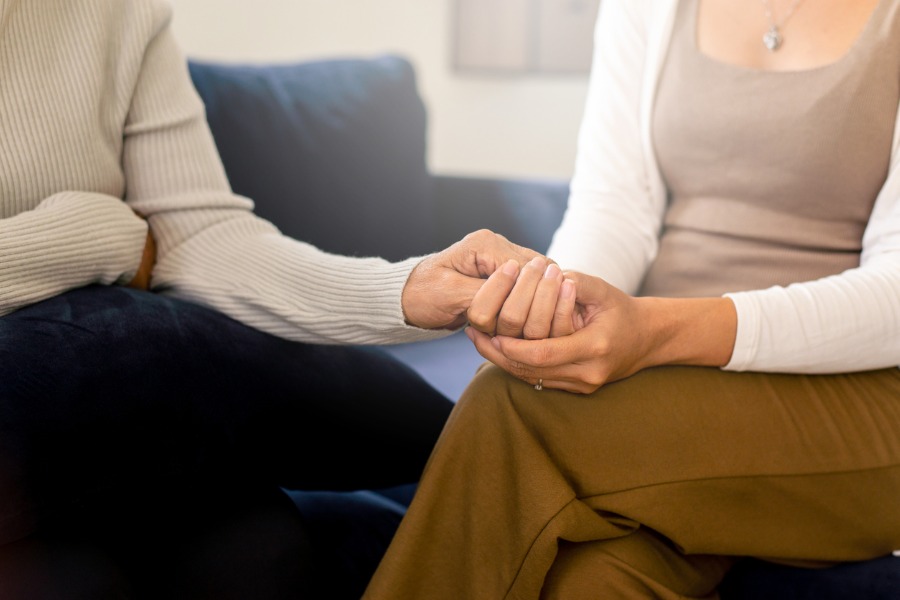 For seniors who choose to age at home, professional home care ensures the senior has assistance, monitoring and supervision available whenever they need it most. Home care offers companionship, practical help with activities of daily living, and respite and peace of mind for family caregivers. In-home aides can assist with daily activities such as getting dressed, preparing meals, medication reminders and transportation. They also ensure that the senior has opportunities for regular, healthy social interaction. The amount of care provided varies by need. It spans from a few hours a day, a couple of days a week, to 24-hour supervision.
One-on-one companionship, including reading, conversation, evening / overnight and mealtime companionship
Transportation to and support at doctor's appointments, physical therapy, or other places in the community
Assistance running errands
Assistance with ADLs like dressing, bathing, and grooming
Meal preparation
Light housekeeping, laundry, linens and dishes
Home Health, Palliative Care and Hospice
In-home caregivers are trained to understand the nuances of senior care. However, they typically are not licensed to provide medical services. Therefore, their goal is to provide non-medical care that helps the senior to feel safer and more comfortable at home.
When a higher level of care is needed, agencies like Salus also offer home health, palliative care and hospice care. Home care might compliment another line of service. It might also be replaced by another line of service once needs change and increase. This high level of customization helps to ensure that the senior receives the right level of support as dementia progresses. It also addresses needs should other health conditions emerge.
Why Choose Home Care?
Once diagnosed with dementia, a senior and their family must consider the importance of additional support and supervision. A well developed and personalized care plan reduces the risks to health and safety that living alone can bring. Home care is a program that offers this kind of support, helping to keep seniors safe at home and reducing unnecessary hospital admissions.
There are many reasons why families choose home care versus memory care for their aging loved one:
Aging in place. The majority of seniors express a desire to age in place. Many seniors have lived in the same house for a long time, and moving to a new home or apartment is often confusing, difficult and emotionally taxing.
Level of care. Home care is easily adjusted to accommodate new needs as dementia progresses. From hourly support to around the clock care, assistance is always personalized and available when the family needs it most.
One-on-one interaction. In-home care ensures that your loved one has one-on-one attention from a professional caregiver. In senior living communities, staff frequently assist multiple residents, and many facilities cope with high turnover rates. This can be especially confusing for a senior with dementia.
Options for higher levels of care. Agencies like Salus offer multiple levels of support including home care, home health, palliative care and hospice care. There's no need to move to a new facility or find a new care team when needs change. In many cases, the same case managers and care team can even remain involved throughout the course of the disease.
Cost of Home Care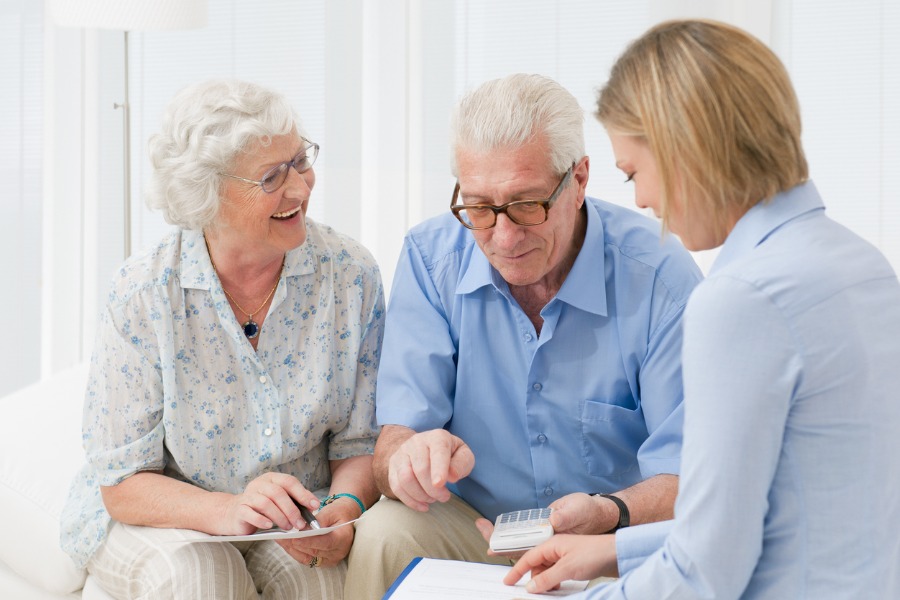 In-home care had a national median cost of $27 an hour in 2021 according to Genworth, an insurance company with a focus on long-term care. Costs do vary by region and the level of service a senior requires. A qualified case manager can assist in developing a care plan that meets your family's budget and your loved one's needs.
Since home care only requires a family to pay for the amount of hours and services that their loved one needs, most families find that it's a budget-friendly option. For some families, this makes it a preferred choice for dementia care versus facility care. Many long term care insurance plans also reimburse for in-home care.
For seniors in more advanced stages of dementia or with other specific medical needs, home health, palliative care or hospice care are available. These programs are covered up to 100-percent by Medicare, MediCal and most insurance plans.
What is a Memory Care Facility?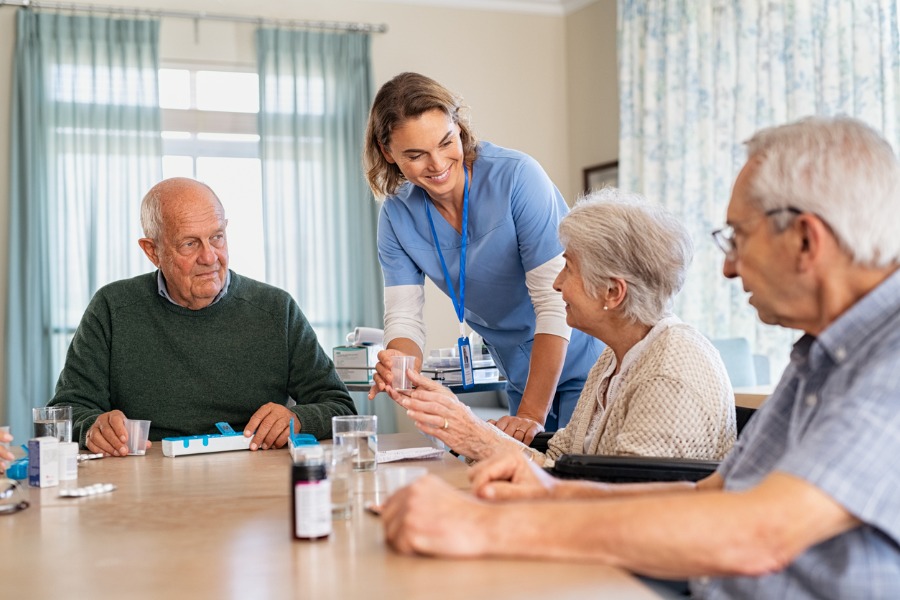 Memory care communities are either stand-alone facilities or one section in a senior living community. Their nursing and caregiving staff is trained to provide specialized assistance for memory loss. The memory loss may be due to Alzheimer's disease or another type of dementia.
Dementia care facilities and assisted living facilities are easy to confuse. The two types of facilities are similar. Both provide help with certain activities of daily living (ADLs), medication management, and meal preparation and service, typically three meals a day. However, memory care facilities are sometimes designed as a locked wing within another facility. They may also be built as a freestanding village. They're modeled to look and feel like "home." Typically the individual has their own bedroom and bathroom (or perhaps a shared bedroom), and otherwise, the spaces being communal. Assisted living facilities typically are not locked facilities. The level of supervision provided to residents is also often less than in a memory care facility.
Why Choose Memory Care?
Families often choose a memory care facility to take advantage of the around the clock care and socialization opportunities.
While 24-hour care is available at home, some families find peace of mind in knowing that staff is always on duty in a memory care facility. Many facilities also have an on-call or on-staff physician ready to assist in a medical emergency.
A memory care facility also offers social and recreational benefits for older people who enjoy being around other seniors more frequently. Most appointments can be arranged in one place, and their meals, medication, and living needs are all provided, typically in the confines of one building.
Cost of Memory Care
A survey conducted by Genworth found that the cost of a memory care facility in California typically exceeds $9000 per month. Costs are often higher for seniors with higher care needs, such as those with later stage dementia. Additionally, most memory care facilities are unable to meet the needs of seniors requiring the highest level of care. In those cases, it is often necessary to move the senior from memory care to a nursing home or hospice care facility.
Therapies and Activities for Seniors with Dementia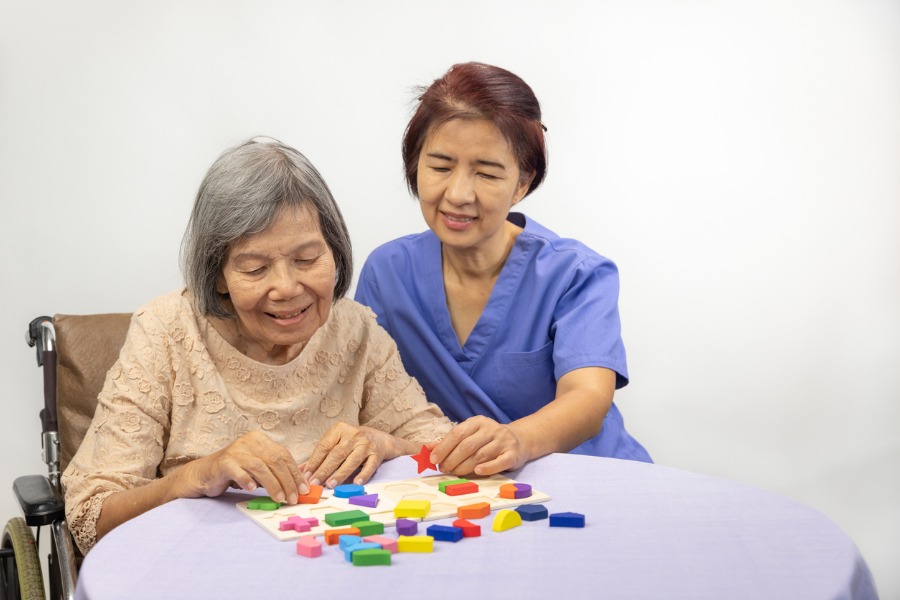 Dementia care communities and in-home care providers both offer memory care activities and therapies designed for seniors with dementia. In memory care facilities, these are often structured programs. In-home care typically takes a more personalized approach, with caregivers assisting with activities such as journaling or completing puzzles, tailored to meet the needs and interests of the patient. The therapies and activities all aim to reduce cognitive decline, promote relationship building with the caregiver or care team, and comfort seniors.
Options to consider for your loved one's plan of care might include:
Reminiscence activities. Sensory or visual cues from the past can help seniors reconnect with positive memories. The activity might include reading magazines from the past, watching and talking about a favorite television series, going through old family photo albums, or listening to music from the senior's past.
Sensory activities. Scents of candy canes bring forth fond memories of baking Christmas cookies, while a few breaths of fresh air on a brisk fall day might remind a senior of visiting pumpkin patches, raking leaves or mowing the lawn. Holding certain fabrics can evoke memories of a cherished grandchild's christening gown or a past military uniform and time in service. These memories are not only meaningful, but they can sooth a senior who is feeling restless. Sharing experiences that involve the senses can also help a caregiver to bond with a senior who perhaps initially views home care in a less favorable light.
Art or music. Creative expression helps idle hands to feel productive. Often enjoyable activities include listening to favorite records, fun sing-alongs or playing the piano. Some seniors retain surprisingly high level musical abilities late into their Alzheimer's journey. Giving the senior an opportunity to use these talents can empower them to retain a sense of autonomy, identity and purpose. Visual expressions, like painting, sketching and drawing, are other ways to encourage creativity and help the senior to convey emotions through art.
Touch therapy. Home caregivers and memory care staff are often trained in gentle hand or neck massage techniques. Both can increase friendly contact, soothe restless emotions, and reduce stress.
Pet therapy. While pet therapy is available in some memory care facilities through visiting animals; one advantage of in-home care is that the patient can maintain a relationship with their own beloved pet or a family pet that comes to visit. The familiarity of and bond with this animal can be comforting and enjoyable.
Memory Care Facility or In Home Dementia Care?
Ultimately, the decision between home care or a memory care facility is a personal one. The best option certainly varies from family to family. However, it's always important to gather information on your options, and to whatever extent possible, consider your loved one's wishes and goals.
If you've already decided on the type of care, here are a few steps to help decide on an in-home care agency or memory care community for your loved one.
Choosing an In-Home Care Provider for Dementia
Many agencies offer in-home care. However, families supporting a loved one with dementia should find an agency that is familiar with dementia and Alzheimer's care. Ensure the agency understands the progression of the disease. Do this even if your loved one is in the earliest stages of the disease.
Additionally, consider these suggestions when hiring a professional caregiver:
Does the caregiver have specialized training or experience? Caring for someone with dementia requires a lot of patience, a gentle touch, and familiarity with symptoms of the disease. These might include difficult behaviors, sundowner's syndrome or other more challenging aspects of care.
Be upfront about behaviors. To help caregivers determine how they can provide the best possible care, have an honest conversation with a care manager. Discuss any indications of sundowner's syndrome, aggression, or other negative or concerning behaviors.
Check reviews and references. Take some time to look up the agency's reviews and star-ratings from other families in your community. Salus Homecare maintains a 5-star Google rating and has many positive reviews from families on our website.
Background checks, licensing, training. Ensure that the agency conducts background checks on any employees who will spend time in your home. The home care team entering your home should also be insured and properly trained on caring for a senior with dementia and emergency procedures.
Accreditations. Accreditations help to ensure that the agency is committed to meeting the highest standards of care. Accrediting bodies like the Joint Commission have strict standards that an agency must continue to meet in order to receive and maintain this designation.
Share background information. Seniors with dementia need to feel comfortable with anyone providing their care. Caregivers have an opportunity to form a stronger bond with your loved one when they know a bit about your family and their past. Discuss your loved one's hobbies or interests, quirks, past military service or other accomplishments. Also share a bit about the family's make up and dynamics with the care manager. This assists as they select the right caregiver and build a personalized plan of care.
Ask about care planning. How are care plans developed and how often are they reviewed? If your loved one experiences a change in status, will this prompt a review?
Choosing a Memory Care Community
If you've decided on a memory care facility, visit several facilities. Ask yourself and the facility team these questions at each one:
How will you meet my loved one's needs? Think about the types of assistance your loved one will require and whether the facility is equipped to respond. For example, if your loved one needs medication reminders, is someone available to assist with this at the proper times of day?
What amenities are available? How are the dining area and other communal spaces set up? Does your loved one have access to these spaces at times of day that fit into their normal habits and routines? If not, consider how disruptions to normal routines might impact them.
How does the facility ensure consistency in care? Seeing many different caregivers through the course of a day or week can confuse a senior with dementia. Confusion can increase cognitive decline and cause other negative behaviors. How many caregivers will provide care to your loved one on a regular basis? What are the staff turnover rates in the facility like? How does the facility help to ensure that any staff turnover doesn't have a negative impact on residents?
What safety features does the facility provide? Visit the community to determine whether the building offers emergency alert systems, locked doors with keycard entry, 24-hour supervised care, interior courtyards, and other important safety features. If your loved one requires a specific piece of equipment or modification, can the facility provide it? How has the facility performed on past safety reviews? Ask to see incident records and note how they were resolved.
How are dementia care plans developed? Ask about who's involved in care plans and how often the plans are evaluated. Who is involved in decisions to modify plans? How are family members included and / or notified?
These are some of the primary deciding factors when choosing between memory care and in-home care. Keep in mind that the decision is personal, and the best choice for one family may not be the best choice for another. Consider the advantages of each, ask a lot of questions, and respect your loved one's goals and wishes.
Salus Homecare is here to help ensure that you have all the information you need to make an informed dementia care choice. Our care managers can address your questions, discuss care plan options and further explain the advantages of working with an accredited agency with multiple lines of service. Contact us today to schedule your complimentary consultation.