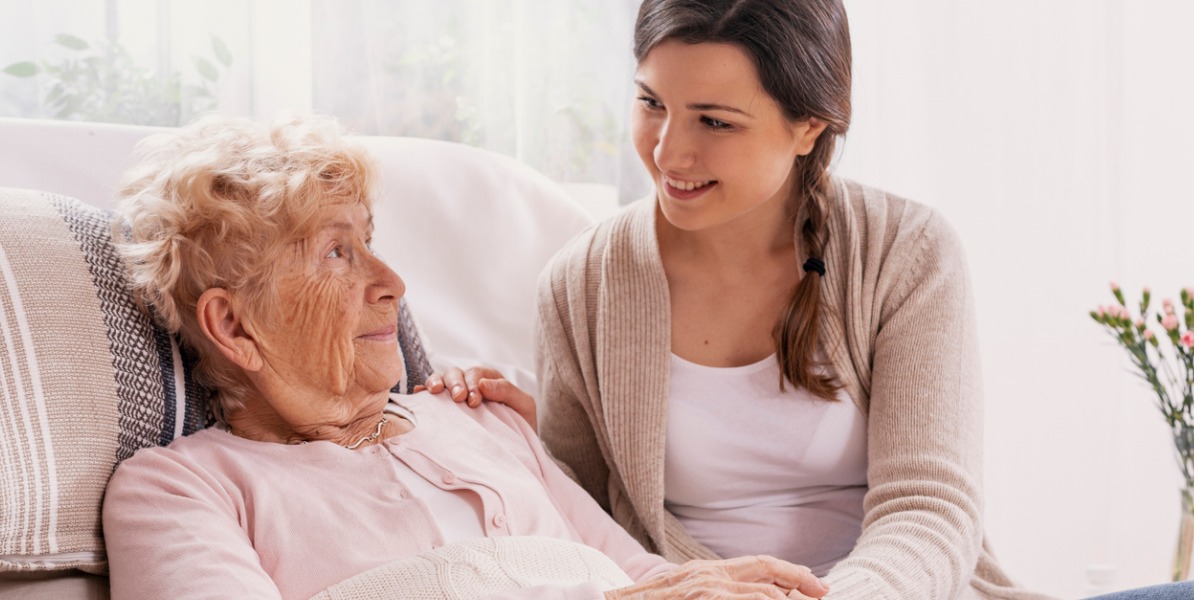 Are you currently weighing options for long term care for an aging loved one? In today's world, many families are. The risks of moving a senior to a facility when the senior community has been hit especially hard by COVID-19 feels daunting. Taking strict measures to isolate and significantly limit exposure is challenging for seniors who benefit from socialization and need help with activities of daily living or supervision because of cognitive impairments. Families like yours are faced with big decisions when trying to determine how to safely meet your loved one's long term care needs. Having the right information can help, but it's important to turn to a trusted source and weigh all the facts.
Salus is here to help. We are your trusted authority on senior care and the challenges that families are faced with during these unprecedented times.
Let's take a few moments to discuss the risks seniors are facing, explore how to determine your loved one's level of risk, and better understand how to navigate options in these uncertain times.
Understanding the Risks
More than 40% of all US COVID-19 deaths involve skilled nursing facilities (SNFs). This is causing families to think more seriously about moving their loved ones home. In fact, over 50% of family members are now more likely to choose in home care for their loved ones as compared to the number of families who made this choice prior to the coronavirus, according to a survey conducted by health care research and consulting firm Transcend Strategy Group (source). While what we know about the novel coronavirus continues to develop and change, one thing we can be certain of is the benefits of in home care versus more high risk facility based care.
Homecare Support is Vital
Nearly 2 in 10 Americans aged 70 and older face challenges in accomplishing activities of daily living (ADLs) like bathing, dressing, ambulating, preparing meals or grocery shopping independently. These challenges can pose significant risks to health and quality of life unless the seniors receive support from family members, caregivers or other community resources.
Traditionally, many families have looked to senior living facilities to ensure their aging loved ones received the level of care they needed to remain safe and healthy. However with healthcare agencies like the Center for Disease Control (CDC) telling us that COVID-19 spreads easily from person to person, and the recognition that this makes some senior living communities riskier environments, thoughts on aging in place are shifting. As more families become aware of these risks, more are considering moving their loved ones home.
This is not a decision to make lightly, and it is important for families to realize that remaining at home also poses risks for seniors who need support with ADLs. Without proper homecare assistance from a trained professional and accredited agency like Salus, some patients are in danger of risk from injury that can lead to more serious and expensive care being necessary.
"The reason health care workers are going into people's homes is because those people need care," says NAHC President William Dombi. "And those needs are still there in spite of the pandemic. If they don't get the care they need, they may end up in the ER, and that's not the place for them to be right now."
Homecare Agencies Address Coronavirus
Even when families recognize the essential nature of in home care, they also must acknowledge the dangers that this virus poses both to fragile seniors and homecare workers. Homecare agencies are addressing these concerns by directing families to CDC guidelines and safety precautions, as well as helping them to understand the training and safety procedures, clinical workflows and ways in which they are approaching care – limiting the number of people who enter the home and working to ensure that seniors reap the benefit of consistent caregivers. These steps help to keep everyone safer.
Identifying Higher Risk Patients
As families are navigating these difficult choices and looking for the best options for their aging loved ones, many might question if a facility is still the right choice, or if in home care is their preferred first option. The answer to this question is personal in nature, but when making a choice, it's important for families to consider the risks of placing an aging loved one in a senior living facility. Part of this involves understanding whether their loved one is considered high risk in terms of exposure.
Based on what we know now, those at higher risk for severe illness from COVID-19 are:
People of any age with the following :

Chronic kidney disease
COPD (chronic obstructive pulmonary disease)
Immunocompromised state (weakened immune system) from solid organ transplant
Obesity (body mass index [BMI] of 30 or higher)
Serious heart conditions, such as heart failure, coronary artery disease, or cardiomyopathies
Sickle cell disease
Type 2 diabetes mellitus
Many seniors have more than one of these risk factors, and as the number of risk factors increases, so does the level of risk. Still, it's important to remember that a senior with more than one of these risk factors often finds that they need support to age in place at home. Families can provide some assistance, but they run the risk of taking on more than they can handle, feeling ill-equipped mentally or physically to meet certain caregiver functions or facing caregiver burnout. Oftentimes, at least a few hours of homecare each week helps to make caregiving easier and is therefore the better choice.
Monetary Benefits
Even when a family comes to the decision that their loved one would be better off at home, cost concerns sometimes keep them from considering in home care. The bulk of homecare services are not eligible for health insurance and Medicare reimbursement, but there are ways to overcome this challenge. In most cases, home care is the more affordable option when compared to facility living.
Hourly In Home Care
When 24-hour care is not necessary, home care is often less costly than moving a loved one to a senior living facility. This is because, with homecare, you only pay for the hours and services your loved one needs. For many seniors, 20 hours of care or less per week can accommodate them and provide the safe and comfortable home environment that they need. This is especially true when family members are also available to assist with some care needs or the senior is independent with some activities of daily living.
Long Term Care Insurance
Seniors with long term care insurance policies sometimes do not realize that these benefits can be used for in home care costs. To utilize benefits, it is important to find an accredited home care agency like Salus and work with a case manager to develop the right plan of care and help qualify the senior for care. Our case managers offer expert guidance and support with long term care insurance policies, and unlike many agencies, there is no additional cost for this support.
Special Supplemental Benefits for the Chronically Ill
High risk patients also might qualify for SSBCIs. The Special Supplemental Benefits for the Chronically Ill (SSBCI) program was announced in 2019 for the 2020 plan year. Broadly, it allows Medicare Advantage plans to offer services such as non-medical transportation, meal support, home modification and other "general supports for living" to certain populations. (x)
Home Health and In Home Care
When people are discharged home from the hospital, they're often discharged with home health. In certain cases, they might also qualify for a few hours of home care to help with bathing and dressing or some housekeeping, meal prep, or other ADLs. As of 2020, a total of 619 Medicare Advantage plans nationwide — out of more than 3,000 — now offer some sort of home-based care benefit, so it is worth checking with your loved one's provider to fully understand their benefits.
Reducing Risks Related to COVID-19
If, after evaluating all of the information regarding the benefits and costs of your loved one's long term care options, your family does decide to pursue homecare for a loved one, it's important to choose the right agency to support you. Doing this involves having a clear understanding of how the agency is identifying risks and what measures they are taking to ensure your loved one stays safe.
To help minimize risks and better control the spread of COVID-19, Salus has implemented carefully developed safety measures. Additionally, we continue to monitor the spread of the virus in our local communities and follow guidance from the CDC and our local health authorities. This information is communicated in a timely manner to our entire team, our network of providers and professional partners, and the patients and families we serve. We believe doing this helps to ensure that risks are mitigated and everyone remains safe.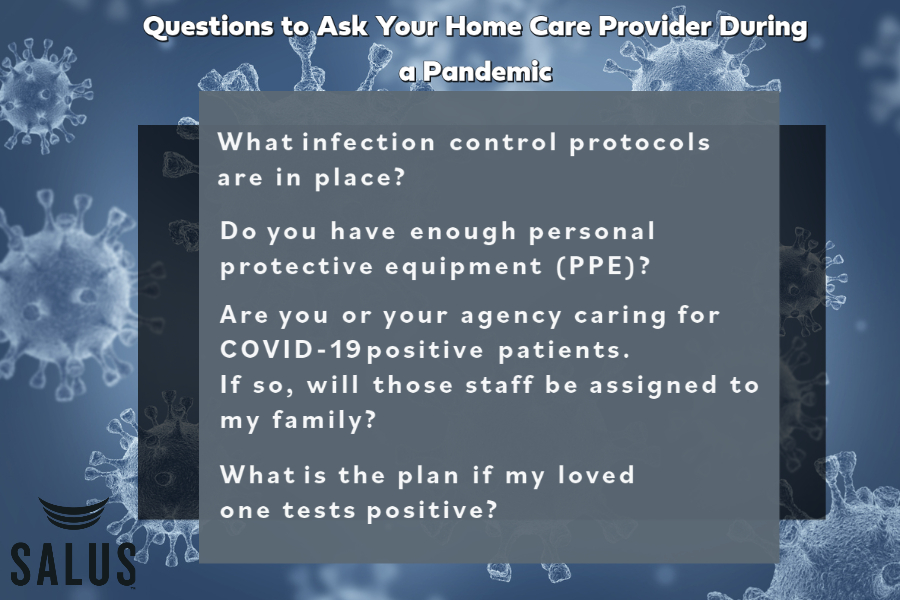 What Infection Protocols are in Place?
Keeping clients safe is a home care provider's top priority. To do this, it's important that they thoroughly explain safety procedures to their team and offer ongoing education. Information must also be shared with the families the provider serves. Reviewing and revising safety procedures regularly accounts for new information from agencies like the CDC and local health authorities. As part of your loved one's safety plan, also ask about the consistency of caregivers coming into the home and how substitutions are made if a professional caregiver is temporarily unavailable due to an illness, family emergency or vacation plans.
Do You Have Enough PPE?
PPE is a critical factor in reducing and preventing the spread of COVID-19. Ensure that any agency you choose has an adequate supply of masks and gloves, that the equipment is used in patients' homes as appropriate, and that they have not been impacted by local and national PPE shortages (or have a plan in place if shortages have impacted them).
Are You or Your Agency Caring for COVID-19 Positive Patients? If So, Will You Assign That Staff to My Loved One?
According to NAHC President William A. Dombi, a May NAHC survey found that more than 63% of home health agencies nationwide were caring for COVID-19 positive individuals. If an agency has agreed to care for this vulnerable population, ask how they are determining which caregivers provide such care, if those caregivers are also caring for patients who have not tested positive and what precautions they are taking to mitigate risks to healthy individuals.
What if My Loved One Tests Positive?
Even when an abundance of precautions are in place, it is still possible that your loved one could contract this virus in the community. Ensure that the agency has a plan in place should this happen. It is important that they communicate this plan to you in advance, and that their team is aware of it too. Swift action is essential in ensuring that your loved one receives prompt treatment and the care that they need to increase opportunities for a full recovery.
Bottom Line
In these unprecedented times, families are focusing in a whole new way on finding the safest long term care options for their aging loved ones. While these decisions are personal, many are turning to in home care as the right solution. Home care is cost-effective and, in some cases, safer than facility-based care. Simply by nature of the more individualized attention a senior receives, home care helps mitigate risk of further exposure. The continued support of an accredited care provider ultimately helps keep those who rely on assistance (and are already considered "high risk") safer than those placed in institutional care. It offers cost savings benefits, it can promote health and healing at home so that repeat hospitalizations are avoided, and it helps to ensure that safety needs are met without overburdening well-meaning family caregivers.
If your family is considering homecare as a safer alternative to a senior living facility, Salus is here to help. Our experienced case managers will meet with you to discuss options, provide information on our COVID-19 safety guidelines and homecare programs, and develop a plan of care that promotes health, safety and a higher quality of life for your aging loved one. Give us a call. We're here to help and are confident that we can figure this out together.