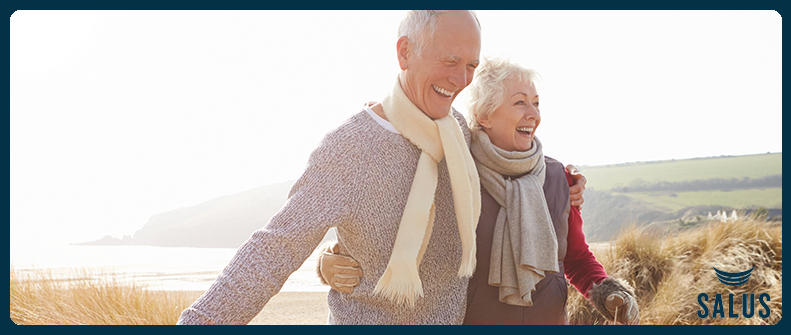 Happiness is a word we are all familiar with, but do you really know what it means? Some people define happiness as enjoying the people and surroundings they are familiar with. Others might consider it a goal that they can accomplish by completing a certain task, succeeding in a particular career or earning a certain amount of money. Whatever you define happiness as, it is easy to understand that it is a positive and something that improves quality of life and leads to a sense of fulfillment.
Happiness in the Geriatric Years
In the geriatric years, many seniors relate their level of happiness to their lifestyle. The ability to continue to live independently and age in place are both marked as high indicators of happiness. Remaining healthy and managing certain conditions such as cardiovascular disease, diabetes and dementia are also indicative of the level of happiness many seniors experience.
While some might think that it is easy for a person to continue feeling happy when these health conditions are not present; as it turns out, remaining happy may be key to preventing some of the most common health conditions that seniors experience.
What the Research Says
Recently, researchers at Loma Linda University conducted a study involving 20 seniors. The research was meant to determine the connection between short term memory and stress levels. A test was given to measure short term memory. Then, the group was divided in half, and some participants were asked to watch humorous videos for 20 minutes. The other half were left alone to sit quietly for that same period of time. When the time was up, both groups were given a second test measuring short term memory. While both groups showed improvement in short term memory after the break, the participants who watched videos performed better and had lower levels of cortisol, the stress hormone. While this study does not indicate a direct connection between Alzheimer's and happiness levels, it does give us a glimpse into the power of humor and laughter as related to cognitive abilities and memory recall.
Happiness and Cardiovascular Disease in Seniors
Other studies have related the amount of laughter a person experiences on a regular basis to lower rates of cardiovascular disease, heart attacks and strokes. Essentially, people who use laughter to work their way through stressful situations and take a positive approach to life generally enjoy improved health and an increase in wellbeing.
The Importance of Support
For some seniors, finding ways to remain happy can be difficult. This is especially true for those who are homebound or otherwise feeling isolated because of a lack of family nearby and reduced involvement in the community. These seniors often benefit from regular companionship provided by community volunteers, church friends or professional in home aides. Having someone to spend time with each day, read a book with, share a story with or a person who encourages the senior to remain active in the community often reduces instances of depression and feelings of isolation and can lead to increased happiness.
The glass half full approach certainly leads to a happier state of mind, and recent research shows it may also be the key to helping seniors maintain their health and longevity. At Salus Homecare, we are caring professionals in San Diego dedicated to helping seniors to live happier, more fulfilling lives. Our in home care programs assist seniors with daily activities and provide important companionship that enhances wellbeing. When working with us, seniors are often able to reduce stress, improve relationships with their loved ones and experience a sense of purpose that may be missing in their lives. Our custom care plans make it easy to cater services to the individual needs of each client, and our consultations are always available free of charge and without obligation. To learn more, contact our offices anytime.
There is no ads to display, Please add some