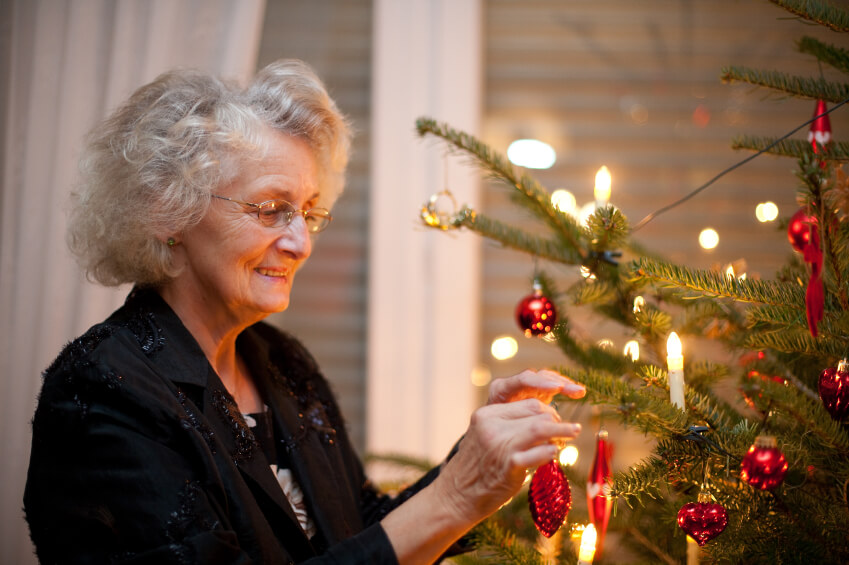 The majority of us enjoy the holidays. We consider this a time of year for sharing and celebration. But for some seniors, holiday festivities bring with them feelings of confusion, anxiety and even depression. The cause of these emotions might include the loss of a loved one, physical or mental health, financial strain or feeling left out when an invitation is not extended. We all want the holidays to bring happiness to every one of our loved ones. Making this happen for seniors is often as easy as taking their physical and emotional needs into account.
Staying Connected
One of the most powerful ways to make the holidays easier for an aging loved one is to reach out. Social connectedness is extremely important this time of year. That is especially so for a senior who may be grieving the loss of a spouse or close friends. Even though the holidays are busy, plan time to spend with a homebound senior who may have difficulty getting out and socializing. A simple card or phone call shows you care. These simple acts can put a smile on the face of a lonely senior.
Inclusiveness
Including a senior in holiday festivities is another way to show you care. When inviting an older loved one to your home, plan ahead. Offer accommodations for older family members who may tire easily or become over-stimulated. Set up a quiet room in the house, and schedule time alone time or for a nap.
Arranging the Home of a Senior for Parties
If holiday celebrations are held in the home of your aging family member, consider that person's mental health before moving anything. It's easy to make quick decisions about moving objects and furniture to accommodate a large number of guests. However, moving things around could cause confusion and anxiety. It is often better to make the space work as is for guests invited even if that means inviting fewer people to the party.
Removing Obstacles for Safety
When gatherings are in someone else's home, it might not be possible to remove all obstacles. This is also true when decorations and a tree are part of holiday gatherings. Do your best to make the home safe. If your loved one has physical limitations, remove slippery rugs, avoid clutter on the floor and barriers that may make navigating rooms or hallways difficult. Ensure that your loved one has any necessary assistance with ambulation and any essential tasks while in your home. If your loved one has a professional caregiver, invite that person to come along, provide assistance and enjoy the holiday celebrations with your family.
Assigning Tasks
For many seniors, meal preparation is a big part of the holidays. Include seniors in preparing the holiday meal by breaking down tasks and assigning one to each person. Older adults, even those with memory impairments, can often easily grease pans, wash produce, fold napkins or arrange flowers. These simple tasks give your loved one purpose and let them know they are an important part of the celebrations.
Gift Giving
Living on a fixed income is often difficult for seniors, especially during the holidays. The desire to purchase lavish gifts is strong. This is especially true at holiday gatherings where everyone is exchanging gifts freely. To overcome this, make your party about creating memories, reminiscing and enjoying a nice meal together. Discourage others from bringing gifts. If they must be exchanged, consider implementing a spending limit. Assigning each person one name to purchase a gift for is another great idea that can minimize spending while still helping everyone to get into the spirit of the holidays.
Medications, Alcohol and the Health of Seniors
Finally, during the holidays, ensure that elderly individuals maintain regular schedules when it comes to managing any health concerns. It's easy to forget to take a medication during the hustle and bustle of the holidays, but forgetting even one pill can have serious consequences. Also, pay attention to the consumption of alcoholic beverages at parties. A glass of wine or single beer can be a healthy and natural part of the celebrations for any adult. However, it's healthy and wise to advise your loved one to use caution and avoid over consumption or mixing alcohol or medications.
The holidays should be an enjoyable time for every member of your family. When it comes to senior loved ones, remain sensitive to their emotional and physical needs, plan ahead and take time to connect during this busy time of year.
Salus Homecare San Diego wishes seniors everywhere, all our clients and their families the happiest of holidays.
There is no ads to display, Please add some