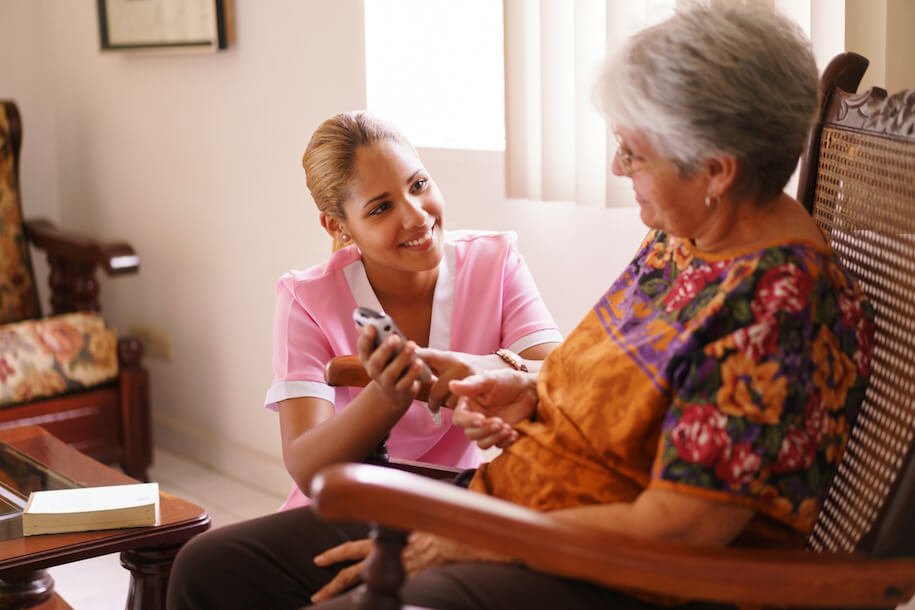 Conflicting emotions are common for long distance caregivers. Great satisfaction is often found in knowing that you are helping a loved one to reach their goals and age in place. Feelings of guilt and uncertainty are also common when living so far away. Sometimes, it is helpful to know that these feelings are normal. This is especially true when it simply is not possible to move closer or spend more time with your loved one. Recognizing the mixture of emotions is important. As is learning how to cope with them. Taking the time to do both makes caregiving less stressful and more fulfilling too.
You are Uncomfortable with Role Reversals
Parents are the people who care for us as children. We depend on them and turn to them in times of need. When the time comes for a role reversal, some adult children are not comfortable with the idea or prepared for the changes ahead. Recognize your own limits in this regard. Try not to take on too much, too quickly unless you have no other choice.
Sometimes, it is helpful to sit down and discuss your new role with your parents. This can help you to gain a clear understanding of what their wants and needs are. It also provides you with an opportunity to frankly discuss your own concerns and limitations. During the discussion, create a plan for how things will evolve as needs increase. This might include bringing in professional care, naming a health care and financial power of attorney and making any plans for aging in place or moving to a facility when and if the time comes. When everyone is on the same page, this role reversal is often easier for the entire family to come to terms with. Even if the conversation is in some ways uncomfortable, the advantages of having it are well worth your time and effort.
When You Are the Only Willing Caregiver
In the course of your conversation with mom or dad, discussions about who will handle medical decisions and finances should come up. For some families, the difficult part of this conversation is coming to the realization that only one child is willing or able to act as caregiver. When that child is you, it is often a rude awakening. This is especially true for adult children who live hundreds or thousands of miles away. Distance makes some caregiving duties difficult or impossible.
If you are the only willing caregiver for a parent, set up an action plan. Do not wait for an emergency. Rather, put the plan in place before it is necessary if at all possible. Involve your parents. Ask what type of assistance they feel they need the most. Then, set up a schedule for who will help them with each task. Perhaps a friend of the family is available for grocery shopping once a week. Maybe a meal delivery service is available through your parent's place of worship. In some cities, social services programs help seniors to access in home care. Privately hiring a home caregiver is also a great solution. While this will not change your role as primary caregiver, it can take day to day burdens off your plate. This often makes it easy for long distance caregivers to feel confident and secure even when they are miles away.
When Your Loved One's Condition is Worsening
If you are caring for an elderly loved one, the possibility for declines always exists. These may be temporary or permanent concerns. Either way, they require immediate attention.
As a long distance caregiver, sometimes it is difficult to even know that your loved one's condition is deteriorating. The realization might come after a visit with your loved one or through a report from a family friend, volunteer or professional in home caregiver. When this happens, questions often arise about how safe the home environment is and whether or not aging in place is realistic as a long term goal.
However you come to know that your loved one is declining, take this information seriously. If possible, pay a visit to see the situation for yourself. If you cannot head to see your relative immediately, consider hiring a home care agency like Salus Homecare to conduct an assessment. A visit to the doctor's office might also be in order. This is especially true if your loved one has not been seen recently. Having this information in hand helps you to plan ahead and take steps to ensure your loved one's care needs are met.
All family caregivers face challenges. Perhaps none as much as long distance caregivers. Getting through these challenges is made easier when you realize your own limitations, make an action plan and ask for help as necessary. The National Institute on Aging offers more valuable tips on this important topic in their Long Distance Caregiving guide. Salus Homecare San Diego is also always here to help. Call us anytime to request a free, no obligation in-home evaluation or to schedule part-time, full-time or around the clock in home care.
There is no ads to display, Please add some