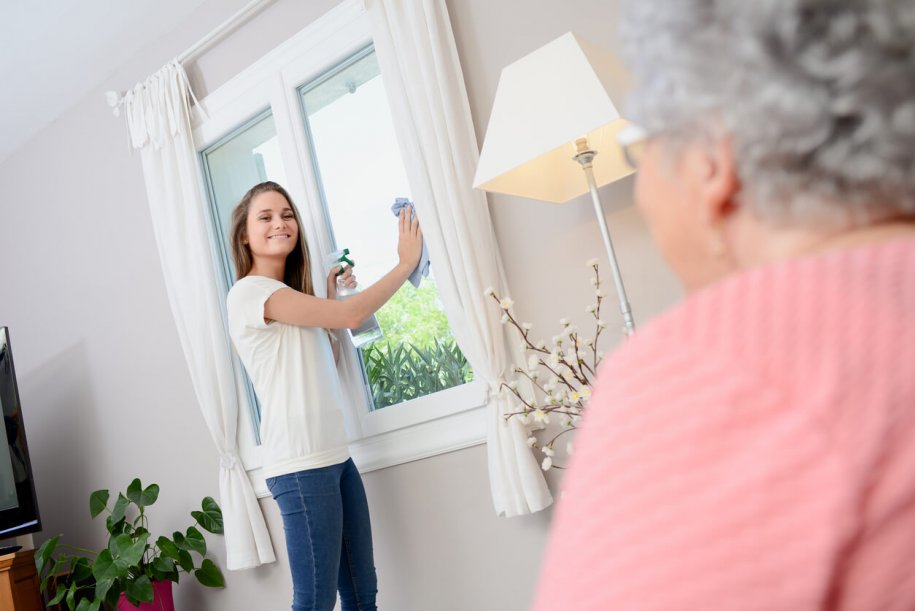 For much of the country, spring is slow to arrive this year. Here in San Diego, however, windows are starting to open and people are planting their gardens and spending more time outdoors. Another thing that commonly takes place this time of year is springtime cleaning. In addition to dusting the baseboards and washing the windows, this is a great time to take a look around to see what details might have slipped through the cracks during your winter hibernation. In the process of doing this, start to think about safety. Oftentimes, the things that are unsightly or really feel like they need some attention also pose a risk for falls.
Clearing Clutter
Clutter is one of the first things that most people agree needs to go when you set out to deep clean your home. Piles of magazines, stacks of bills, boxes, extension cords and too many small pieces of furniture can all make your home look cramped and small. These things all also increase a senior's risk of falling in the home. Clear out clutter to create easy to navigate walking paths throughout the home. Basically, try to create as much empty floor space as possible so that there are not items laying all about. The clearer the floors are, the less opportunities exist for trips and falls.
Throw Rugs
Once your floors are free from clutter, take a look at the material covering them. Throw rugs in particular can pose a hazard. If the rug easily moves around or is too thick, it can be difficult to safely walk across. This is especially true for a senior who needs to use a walker or a cane.  Removing rugs is usually the safest option. If this is not possible, vacuum or sweep them well to make sure they are free from any debris. Then, attach them to the floor with double-sided carpet tape. This helps to keep them from moving around, and it can make the floor safer to walk across.
Lighting in the Home
After you have addressed the flooring in your home, take a look at the lighting. Hallways and rooms that are well lit make it easier for seniors to see. This is especially important if an aging individual has poor eyesight. Dark, dim conditions pose a tripping hazard because, if a senior cannot see what is in front of him, he may run into it or trip over it. As part of your spring time cleaning routine, replace any worn out light bulbs to make your spaces brighter. Consider adding nightlights on any paths you frequently walk after dark. The path from the bedroom to the bathroom is a good example. Clean windows to allow more natural light to enter your rooms. Also, remove or clean window coverings to make sure dust, dirt and debris are not preventing sunlight from coming in.
Spring is the perfect time to make the home of a senior loved one safer with a deep cleaning. Kick the clutter to the curb, check throw rugs to make sure they are secure and add some extra lighting to any dark rooms. Once you have completed your cleaning routine, consider enlisting the help of a professional caregiver to help maintain the home and monitor and support your aging loved one to help keep them safe.
Salus Homecare in San Diego provides tips like this to help keep our clients safer and more comfortable at home. If there's anything we can do to help you or a loved one age in place, just let us know. We are happy to provide a complimentary, no obligation consultation at a time that is convenient for you.
There is no ads to display, Please add some