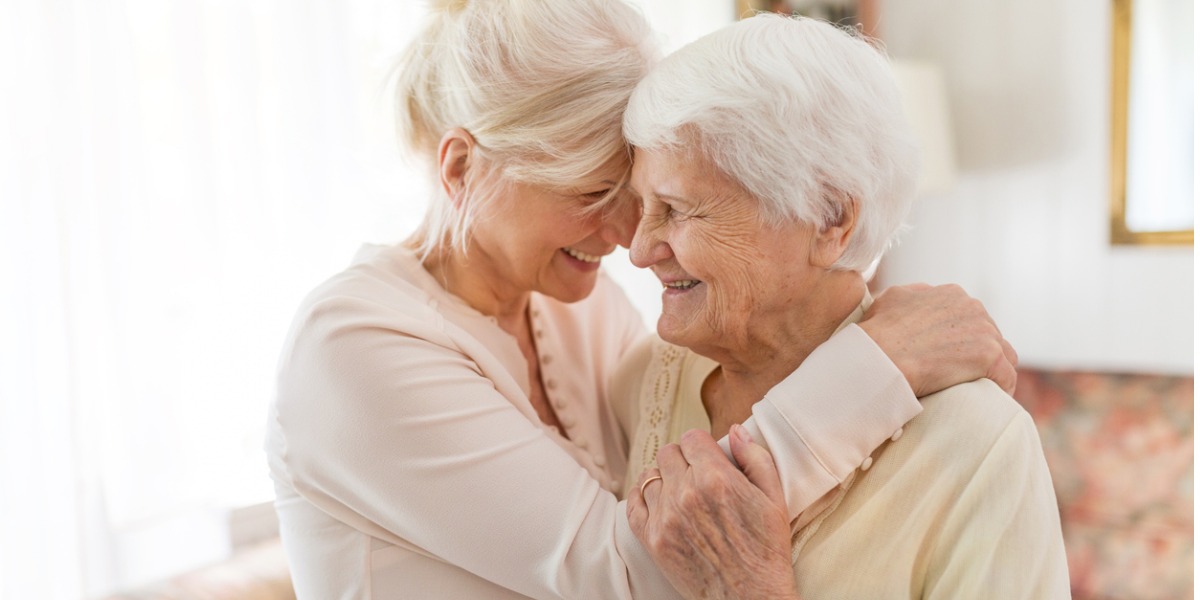 When your senior parent's health or independence declines,  you might make the decision to step in and provide care. While rewarding, this new role can sometimes feel overwhelming. Meeting all of a senior's needs while also managing your own health, family and career takes a lot of time and energy. It can also feel uncomfortable both as an adult child and for your aging parent.
Perhaps these challenges have led your family to start considering care options. For most families, this typically means exploring community care and home care. Which is best for your aging loved one? The answer involves evaluating your parent's needs and goals. It's also helpful to understand what each option offers. 

Let's explore them both. 

Community Care and Senior Home Care Explained
Community care is an option where your parent moves to an independent living, assisted living, memory care or nursing home facility. Each facility is staffed with care providers that might include registered nurses, CNAs, LPNs, social workers, an activity planner and other professionals who meet the specific needs of seniors within that facility. 

Senior home care, or in home care, is an option where a professional caregiver comes to your loved one's home for a predetermined number of hours each week to provide care. Home care is ideal for seniors with many different needs. Aides can assist with meal preparation, transportation, scheduling medical appointments, bathing, grooming, safe ambulation and medication reminders, among other non-medical tasks. 

Supporting a Senior's Goals
As you're evaluating care options, take some time to talk to your parents about their goals. While many seniors express a desire to age in place, some prefer the community support that an independent living or assisted living facility provides. Make sure to take time to discuss not only personal goals but financial goals, as budget can come into play when determining which option is best for your family.
Community Care
Community care offers communal living, so there are always pre-planned activities for seniors to participate in. Meals are served at a specific time of day. In many cases, all housekeeping tasks are managed by the staff. Residents in independent living or assisted living might also have bus transportation available for shopping or outings. In some communities, seniors have private rooms or even small apartments. In other communities, roommates are common. 

Senior living communities can accommodate seniors with a wide range of needs, from around the clock memory care to those who need more minimal assistance with meal preparation, housekeeping or some activities of daily living. Some seniors enjoy the social aspects of living in a community with seniors who have similar needs. Others feel restricted by the lack of freedom when it comes to setting their own schedule or daily routines. Living in a community also does mean moving away from home. That is something to discuss with your parents and can be directly related to their goals.

In Home Care
Unlike with community care, in home care offers one on one support at home. Seniors determine their own schedules and routines, and a homecare worker provides assistance with non-medical needs based on those scheduling preferences. Staying home often makes it easier for a senior to spend time with family and continue to be a part of their community. Most community care facilities do not allow pets, so if one of your loved one's goals is to keep their special furry friend, home care might be the better option.
In most cases, homecare providers pair seniors with one primary professional caregiver. Seniors often form close relationships with their caregivers, and that can help them to feel more comfortable accepting care. Homecare is also a cost effective option for families. They can set the schedule anywhere from a few hours a week to around the clock care based on the senior's needs and the family's budget. 

In home care can accommodate seniors with a wide range of non-medical needs, and it's usually easy to increase or decrease services as needs change. As a family caregiver, you might also find it easier to communicate directly with a homecare worker versus the social workers or nurses in a facility. This can help you to stay involved and play an active role in developing your loved one's plan of care. 
Safety and Caregiver Qualifications
In helping your parent to make the right decision about their care, questions about safety will inevitably come up. It's important to know that your loved one is receiving care from qualified individuals and that they feel safe in their surroundings. In both community care facilities and in home care environments, you can find highly qualified professionals. However, there are some differences. Let's examine them. 

Community Care
Community care professionals typically have a variety of different backgrounds depending on their role in the facility and how they assist residents. Care providers undergo background checks and an interview process in order to work in the facility, and some professionals have to show their credentials before obtaining employment. While professionals in facilities are qualified, the turnover rates can be quite high. A 2017 study on retention in assisted living facilities found turnover to be as high as 31.71%. High turnover can impact how many residents a nurse is caring for on a given shift. This can make it more difficult for your loved one to feel safe and comfortable in the facility. 

In Home Care
In home caregivers are typically hired privately or through a homecare provider who conducts all interviews, background checks, billing, insurance requirements and staff training. Homecare agencies also ensure that backup coverage is provided if the primary caregiver is ever unavailable. Hiring through a homecare provider is the easier route if families wish to avoid handling these important tasks on their own. As in home care is provided one on one, safety concerns related to the caregiver having a large caseload are avoided. Most seniors also find it easier to bond with their home caregivers. This can enhance feelings of safety and security. 

Whether to hire an in home care provider or opt for community care is a personal decision, and the right choice can vary depending on your loved one's goals and needs. However, understanding both options can help you to have a productive discussion and steer your loved one toward the best choice. In addition to researching information, take time to visit facilities and meet with a homecare provider before making your choice. Salus Homecare of San Gabriel Valley is always her to answer your questions or meet with your family for a no obligation consultation. Let us know if we can help. 

There is no ads to display, Please add some