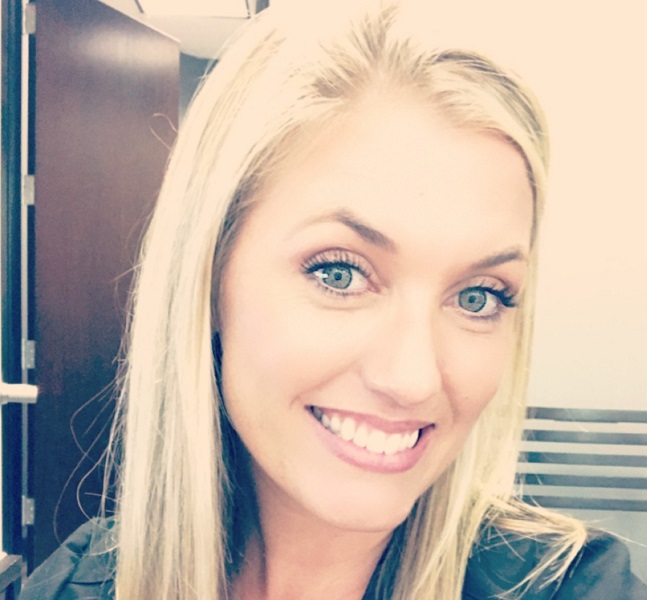 It's just another day in the life of Brittany Lewis, R.N, BSN and nurse case manager for Salus Homecare. At 9 a.m., she's in the car with a half hour drive ahead. Today she will visit a patient who was recently discharged from the hospital and needs home health services. With a cup of coffee in her console and a cheerful tone in her voice, she starts the car and begins to share with me a little about why she chose to become a nurse and what drew her to Salus Homecare.

Brittany is creative and a former full-time artist. Previously, she had a successful career in the fine arts industry. She enjoyed her work but longed for a way to give back and help others. That's what drove her to pursue a career in nursing. "I've always loved people, and my dad was a nurse. I watched him take care of my grandfather near the end of his life. That experience really shaped my desire to become a nurse."

As her drive continues, Brittany explains how her nursing path began in the hospital setting and a little bit about what that experience was like. "My passion is seeing patients build confidence and grow physically and emotionally. In the hospital, I worked with stroke patients and spine patients. I saw my patients for a shift or two, maybe three shifts. I loved what I did, but the fact that I interacted with them for a short period of time didn't really give me the opportunity to connect with them and see their progress."

While working at Hoag Hospital, Brittany frequently heard about home health agencies as patients prepared for discharge. Many of the doctors she worked with recommended one agency in particular – Salus Homecare. Brittany took the time to learn more about them and was eventually approached by their team and accepted a part-time position as a nurse case manager.

"At first, home health was supposed to be my part time job. I planned to use it to make some extra money and gain new knowledge. What I soon found out was that home health fits me. I love how, over six weeks, I can connect with my patients and watch them grow and improve. The job is challenging, and it's certainly not for everyone – there's a lot of educating patients, and you repeat yourself often – but it's also very rewarding. I love the relationships I have with patients."

Today, Brittany is a full-time nurse case manager with Salus Homecare. Her daily duties include assessing patients and providing people with support when they return home from the hospital but still need medical care. Some need assistance in monitoring their vital signs or help with wound care. Sometimes new medications are challenging, or they might be working to follow a complicated plan of care that includes physical and occupational therapy.

Whatever their challenges are, Brittany strives to work in partnership with each patient to develop a care plan and meet their needs with compassion, empathy and professionalism. During our interview, she highlighted the importance of teamwork throughout this process and said that while much of her work is autonomous in some ways, she also appreciates the support she receives from the Salus team.

"Mark, Boad and Kim are all very supportive. They not only offer suggestions and guidance, but they listen. Our lines of communication remain open, and I feel like there's a wealth of knowledge available to me and all the tools I need to be successful. One example of the support I see is that Kim is seemingly always available. She'll answer that phone 24-hours a day, and with three children at home, I honestly don't know how she does it."

Brittany is just about to reach her patient's house as we close out the interview, but in parting, I ask her what advice she has for patients who have recently been discharged from the hospital. She pauses for a moment and then responds,

"I always tell my patients to start with one day at a time, one win at a time. Each small win brings them one step closer to independence. They have to look at the micro view and forget about focusing on the big picture because that can feel overwhelming. Really, it's all about having the right mindset and building confidence. If you can do that, you're ahead of the game. That's what I help my patients to do. I help them to feel secure, and often, I can see the positive change in just one week."