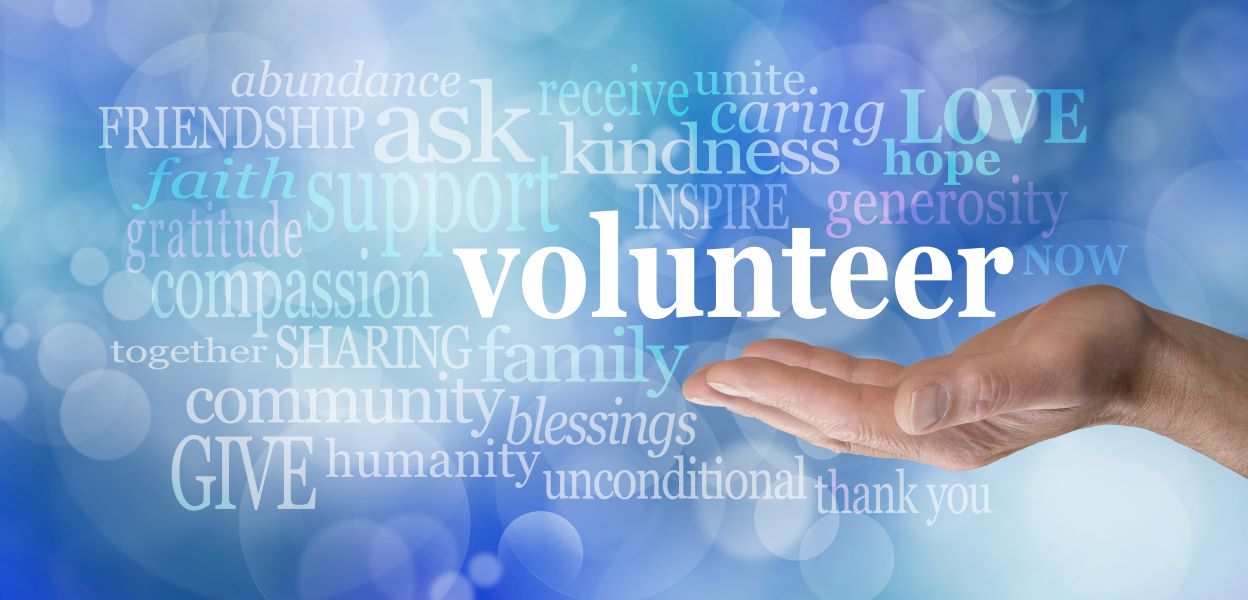 The goal of hospice care is to provide comfort to a person when the end of life is near. Because hospice focuses on providing care rather than finding a cure, services are often provided in the environment where the patient is most comfortable. This might be their home, a board and care facility or an assisted living facility. Professionals including doctors, nurses, chaplains and social workers are part of the care team and visit the patient to ensure that their emotional, physical and spiritual needs are met. Hospice volunteers are also important contributors to the hospice care team.
What is the Role of a Hospice Volunteer?
Hospice volunteers provide emotional support to a patient in hospice care and some respite care for the family. Their duties might include offering friendly visits, music enrichment, hairstyling services, massage therapy or pet therapy visits. Some hospice volunteers also assist with administrative duties or by sewing memory pillows or memory bears, but all volunteers share the same goal – to enrich the hospice experience and offer empathy and support during an oftentimes difficult stage in a family's life.
How Has Volunteering for Hospice Changed in the Wake of COVID-19?
Volunteers have long been an important part of the hospice program, and their role is considered crucial enough so that they have been mandated as part of the Medicare law § 418.78 – Conditions of participation – Volunteers – that defined hospice care in America and was enacted in 1982. The law still stands and has long stated that volunteer hours must equal at least five percent of the hospice provider's total patient hours.
The goal of this law was to keep hospice care community oriented and patient and family focused.  However, in the wake of COVID-19, the requirement for hospice volunteer hours is changing. The Centers for Medicare & Medicaid Services (CMS) has made a decision to waive the requirement that hospices are required to use volunteers (including at least five percent of patient care hours). The reason for the changes is because it is anticipated that hospice volunteer availability and use will be reduced related to the COVID-19 surge and anticipated quarantine. (42 CFR §418.78(e)). As a result, many hospice providers have made the decision to temporarily suspend volunteer recruitment and training, as well as efforts to provide volunteer services to patients.
How are Patients Impacted when Hospice Volunteer Visits are Reduced?
Touch and togetherness are key elements of hospice care. They enhance quality of life when the end of a person's journey is near and help to lift the burden many face through such a challenging time. With the spread of COVID-19 and the resulting limits on visitations from friendly volunteers, barriers are being created limiting the closeness and intimacy that patients need most in their final weeks or days of life. Weighing safety against comfort presents challenges, and in some ways, considering comfort as secondary in importance is in direct contradiction to the mission of hospice.
Research shows that social isolation can have a negative impact on the mind and body. Some of the harmful effects of social isolation include depression, anxiety, cognitive decline and sleep deprivation, all of which can negatively impact quality of life and reduce a person's ability to continue to make memories with family, find closure and feel comfortable as the end of life nears. 
Patients feelings of isolation are compounded when the friendly volunteers who they have grown to know and trust can no longer visit. In person visits from family members, friends and even members of the professional hospice team might also be limited especially for a resident living in a board and care or other facility with enhanced safety precautions. 
How Can Hospice Providers Help Patients Overcome Isolation?
Debbie Robson, RN, BSN, MBA-HCM, ACHE and Salus Hospice Vice President, weighed in on the new requirements for hospice care volunteers and the impact to patients of reducing volunteer hours. "At a time when patients and families are the most isolated, hospice care providers must seek ways to provide more care, not less. Discovering new ways to deliver volunteer services that benefit the hearts and souls of our patients is essential during this time."
She continues, "Salus Hospice is focusing our efforts on revolutionizing our volunteer program so that it continues to meet these important needs in light of COVID-19, and as new information and changes come our way. This is essential because social isolation may be our new normal for some time into the future, especially for the elderly and those with complex medical conditions. While we must do all we can to keep hospice patients and our volunteers safe, we cannot ignore the vital role that a volunteer's contributions play on physical, spiritual and emotional health near the end of life."
Innovative Hospice Volunteering Strategies
Technology can play an important role in helping volunteers to remain engaged in meeting the needs of patients while ensuring that social distancing protocols are followed.
This volunteer recorded a short video to share with his patient. Video messaging supports the strong connection between patient and volunteer and helps to combat loneliness.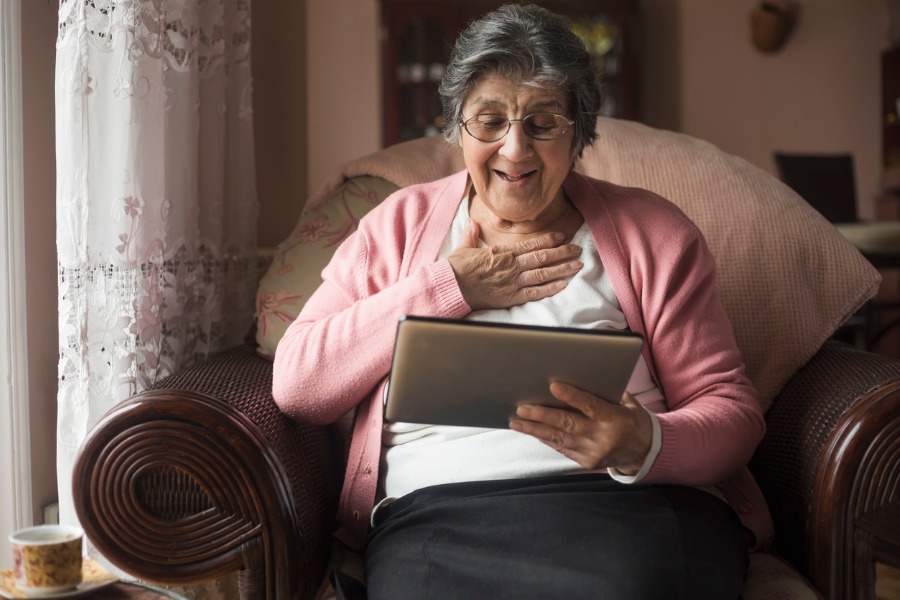 Virtual visits can provide patients with opportunities for face to face time with their favorite volunteers with the use of technology and the right support from family or other care providers. While not a complete substitute for in-person visits, platforms like Zoom or FaceTime can help patients to maintain important ties with people they care about and trust and stay connected to the community.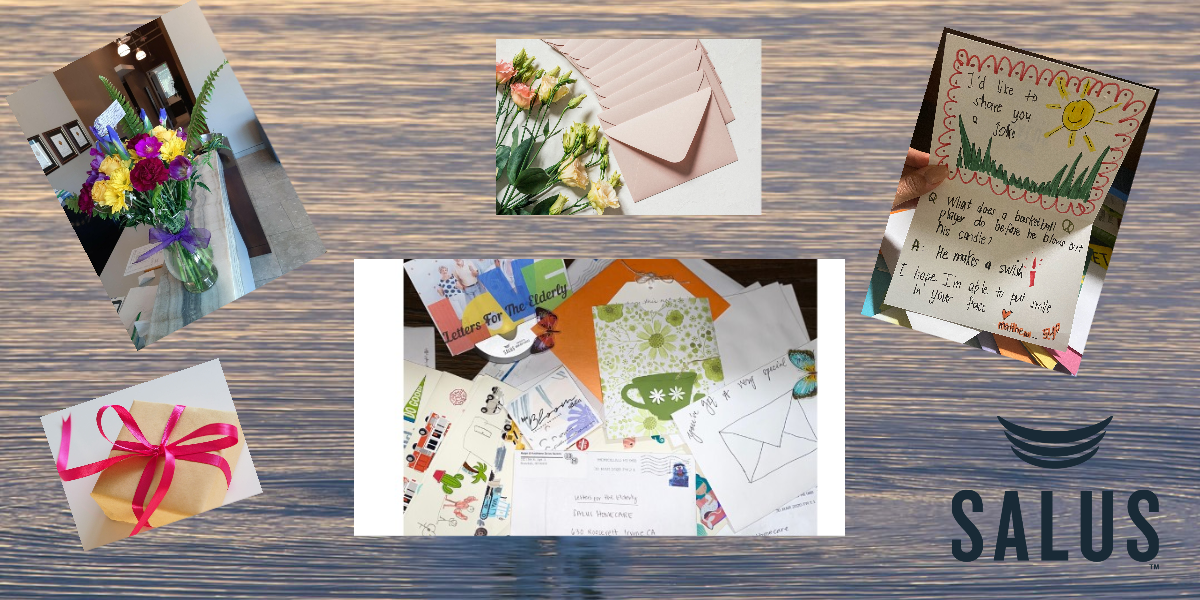 In addition to using technology, volunteers might establish pen pal relationships with patients and families or drop off personalized care packages and meaningful gifts. Families feel the love of community when someone takes the time to write a letter or send a gift, and patients experience a sense of belonging too.
In the wake of COVID-19, hospice volunteer programs look different, but they must continue to exist, evolve and grow. The value of friendly visitors and hospice volunteers truly cannot be overstated. Providing patients with love and support is vital when the end of life is near, and this is so much more difficult to do without the work of committed hospice volunteers.
Salus Hospice has many volunteer opportunities available. If you're looking for a way to give back to your community, contact us today. We'd love to find the right role for you.