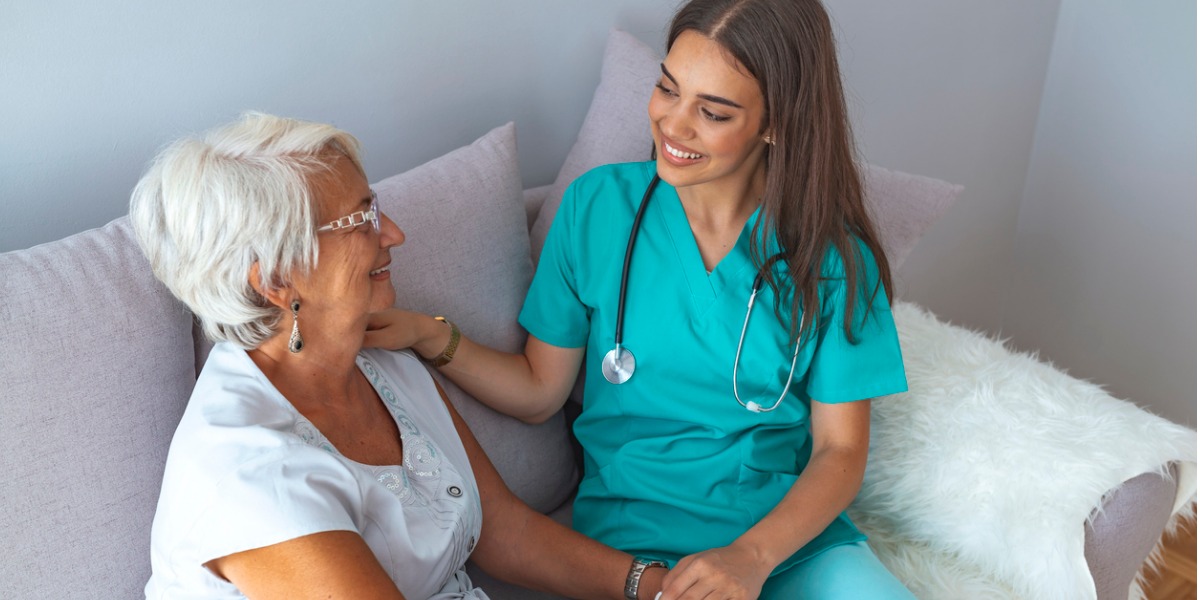 When you're faced with a life-limiting illness, one of the most impactful decisions you can make is your choice of a hospice care provider . Medicare guidelines set certain standards for all hospice care providers and help to protect you as you're making this decision. However, these guidelines are not all encompassing, and it's important to feel confident that you are making the right choice and selecting the best hospice provider for your family. Here are some important factors to consider as you're making your decisions.
Reputation
For most families, the search for a hospice care provider begins in the doctor's office. You may receive a list of hospice care providers or even one specific care provider that your physician often recommends. In other cases, online searches provide information on providers in the area who offer hospice care. Both are good ways to start your search, but the names and locations of agencies can only tell you so much, and the final choice is ultimately yours to make. An important part of making that final choice is to understand the reputation of any hospice care provider you are considering. Here are some questions to ask:
How long have they served your community?
What do previous patients and families say in testimonials and reviews?
Is the information on their website up to date and, to the best of your knowledge, accurate?
Are references from past patients available if you request them?
Do patients and families complete satisfaction surveys after they receive care? If so, can you view them?
Do doctors and hospital discharge planners recommend the agency to their patients?
The level of openness and honesty that you note is an important indicator about each agency you're considering. If a representative is hesitant to provide information, that may be a red flag. Remember that any hospice care provider you choose is a group of professionals who you will have to spend time with and frequently communicate with during a challenging time in life, so your gut instinct about your level of comfort does matter.
Accreditations
An accredited hospice care provider takes extra steps to prove they are committed to providing the highest quality of care as well as maintaining certain communication and safety standards. This protects you and your family and provides assurance about the type of care you can expect to receive. The Joint Commission is the largest accrediting body. They are independent and not for profit.  To earn accreditation from the Joint Commission, a hospice care agency must voluntarily follow specific day-to-day operation standards for care and maintain very specific safety standards in accordance with the survey process. The survey process is ongoing, and a new survey is conducted every 18 to 36 months. As part of this process, agencies are provided with education and guidance for maintaining and improving their standards of care.
Individualized Care Plans
Hospice patients are individuals with unique needs and goals based on their beliefs, background, illnesses and many other factor. The best approach to providing high quality care and a positive hospice care experience is by creating an individualized care plan for each patient. This care plan is the road map that provides an outline and structure for the day-to-day services you will receive. It also sets the stage for a collaborative approach among the professionals who will meet your physical, emotional and spiritual care needs. The care plan should address your:
Condition
Abilities
Routines
Needs
Challenges
Family Needs
An initial assessment is used to understand your needs and develop the care plan. This assessment is most effective when it's inclusive of medical professionals who have been providing care, the family and you as the patient. Once the document is created, it is reviewed regularly and modified as needed to ensure care always remains appropriate, beneficial and in check with your challenges and goals.  
Who Will Provide Care?
Your hospice team will include professionals from several different disciplines who work together to address your physical, emotional and spiritual needs. Typically, a team includes a hospice physician, nurses, social workers, a chaplain and trained volunteers.
While Medicare guidelines dictate that all hospice care teams include nurses, there are some differences in the way agencies staff their teams and manage the needs of patients. As a patient, one of the most important things for you to understand is the difference between a registered nurse (RN) and a licensed practical nurse (LPN). RNs have, at minimum, a two-year degree or three-year diploma. They are generally better prepared to take leadership and provide more critical thinking especially in crisis situations. They also typically have more extensive training in hospice care and effective pain management. An LPN is still a highly qualified nurse, but they generally has less training than an RN. LPNs must work under the supervision of an RN who is always the senior nursing professional on the hospice team. The hospice RN is responsible for providing education, supervision and direction to the hospice nursing team, the patient and family caregivers.
While some agencies rely primarily on LPNs for most patient visits, Salus Homecare follows an RN model of care. This means that a registered nurse sees each patient for the assessment and the majority of their visits. LPNs are strictly used to subsidize care.
Medication Management
Medications are an important part of hospice care as they help patients to physically remain comfortable and free from pain as the end of life nears. Morphine, oxycodone, methadone and hydromorphone are some of the medications prescribed for hospice care patients. Doctor's orders are used to determine proper dosing amounts and schedule. This can vary with some hospice care providers following a more paced, "low and slow" dosage schedule and others following more frequent or increased dosing regimens.
Something that remains the same for all adult patients in hospice care is that, to qualify for coverage, they must discontinue any medications or treatment protocols that are used to try to cure the illness. Patients typically choose to do this when they consult with their doctor and decide that curative treatments no longer have value because they're either ineffective or somehow having a negative impact on quality of life.  
A difference between hospice providers can be seen in the way in which they handle maintenance medications. Prescription drugs used to manage blood pressure, cholesterol, diabetes or other medical conditions are sometimes discontinued when a patient enters hospice care. In other cases, maintenance medications are continued, helping the patient to feel better on a day-to-day basis, have more energy and in some cases, maintain independence for a longer period of time. Salus Hospice typically takes this approach.
As with all hospice care decisions, your preferences and goals are the most important thing to consider with regard to pain management and maintenance medications. Any hospice care provider you choose should align with your beliefs and goals and respect your wishes when it comes to medications.
Timing and Emergency Care
There are several proven benefits to starting hospice care earlier including enjoying a higher quality of life, relieving the stress that you and your family members might be experiencing and at times, extending life for days, weeks or months. This is why it's important to find a provider who can complete an assessment and begin services more immediately. At times, that might mean starting care on a weekend or holiday, but your hospice care provider should accommodate your needs.
Emergency support is also essential to ensure that professionals are available if your needs change, you or your family have a concern or improvements or setbacks are noted. Crisis care is also valuable especially as patients get closer to the final stage in life. Salus Hospice provides crisis care which is continuous hospice nursing support at the patient's bedside for an extended period of time, up to 24-hours a day and 7-days a week. Your symptoms and needs as well as the recommendations of your nurse, your primary care physician and your hospice physician will help to dictate when and if crisis care is necessary.
The final stage in life is often a stressful one that is full of uncertainties, but learning about your options can help to change how you think and react when faced with a life-limiting illness. Gather information, and ask lots of questions. Most important, know that you do have choices especially when making your decision about a hospice care provider. If you have questions or need more information, Salus Homecare is always here to help. Contact us to schedule a consultation.