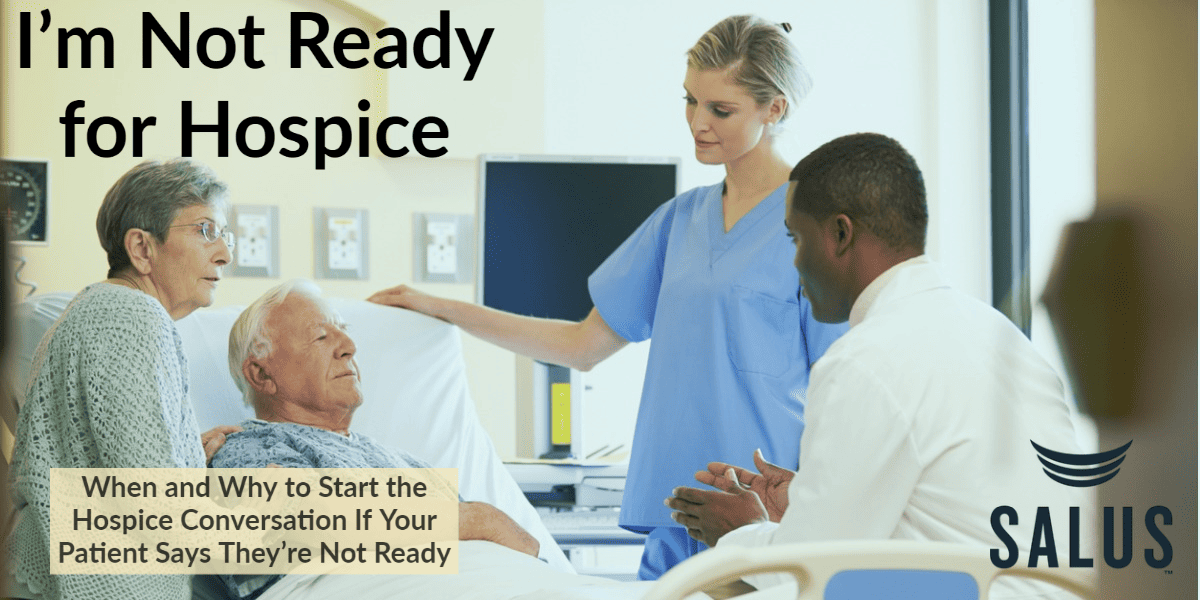 After the diagnosis of a life-limiting disease, it can be easy to focus on the negative and forget that quality of life still matters. This can sometimes result in a doctor recommending hospice care only to have their patient say "I'm not ready for hospice." Even the anticipation of this statement causes some medical professionals to avoid or delay conversations about hospice care.
However, not providing your patient with information about this beneficial program is a disservice to them and their loved ones. Patients who receive information sooner have more options.
The patient and their family members build meaningful relationships with their hospice care team sooner.
They better manage pain and distressing symptoms.
They avoid unnecessary hospitalization and the corresponding medical expenses.
In some cases, research shows they live, on average, 29 to 44 days longer.
The result is often an overall improvement in quality of life.
To give this gift to your patient, focus on overcoming barriers. Help the family to truly understand hospice. Give them choice by ensuring they have information about other supportive life programs that may be a gateway to hospice care. Empower your patient, and help them to develop a plan as they establish and reach their goals.
Barriers to Hospice Care
To begin a conversation about hospice, it's important to first understand the obstacles that are in play.
Barriers sometimes exist in qualifying a patient for hospice, especially if they want to continue with curative treatments. If a patient's life expectancy is more than six months, this can also impact their ability to qualify.
Some families believe that accepting hospice care means giving up hope. They might tell you that they're just not ready to die. This can increase their reluctance to receive a referral for hospice services.
Starting the Hospice Conversation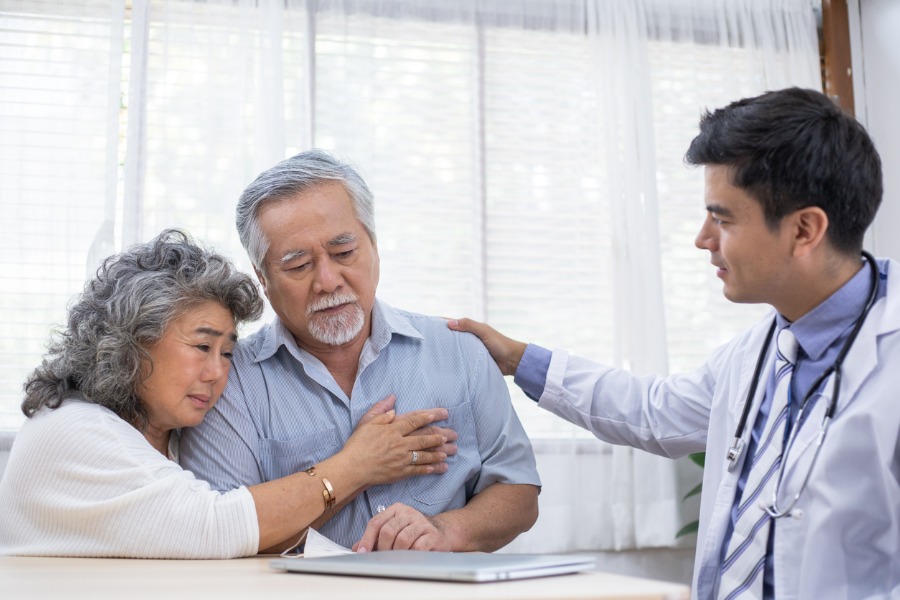 Some of these barriers are easier to overcome when you initiate the conversation about hospice as early in the disease process as possible. Even if you don't think your patient is ready, this can help them to prepare for the future. Remember, the goal is to ensure they understand their options. Early conversations offer more time for discussion, questions, and considering the timeline ahead. Patients who begin to consider hospice sooner have more opportunities to play an active part in care planning versus patients who only hear about hospice much later.
Always provide a safe space for these delicate conversations. Ensure that it's free from distractions and a room where everyone can sit comfortably. Never rush a family when they're asking questions or making decisions.
Start with a conversation about the illness and the realities of the course of the disease. Next, take some time to understand your patient's goals for care.
Are these goals realistic?

Does the patient understand the truth, and are they setting medically obtainable goals?

Are care service programs available that can help them to meet these goals?

If so, which programs, and how do those programs work?

Does your patient understand the doctor recommended program and benefits?
Dispel Myths About Hospice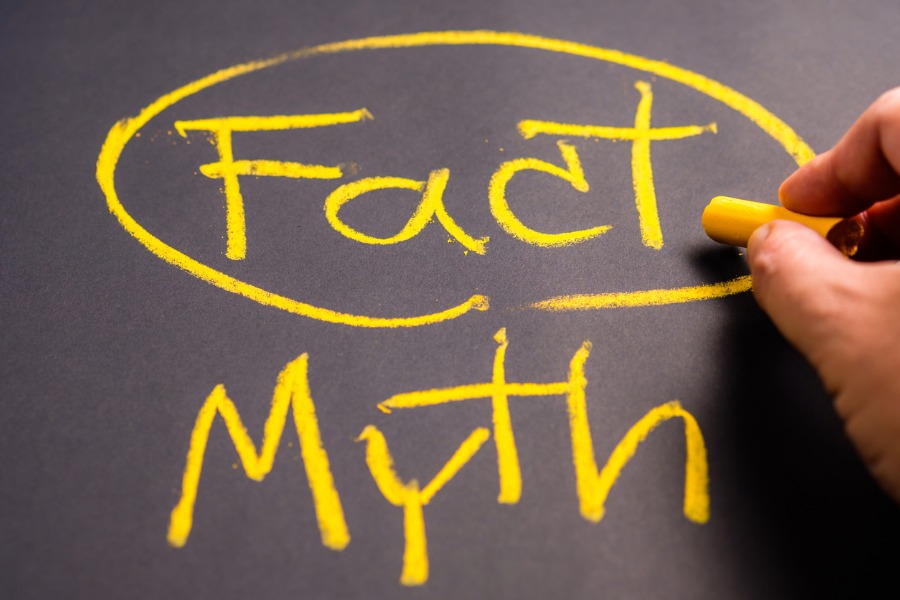 Dispel myths like "hospice equals failure" or "hospice means I'm giving up." Help patients to understand that their death won't be hastened by moving to hospice care, and the pain medications won't result in them being bedbound or incapacitated. Remind them that the goal of hospice is symptom management and to improve quality of life so that they can enjoy whatever time they have left at home and do so surrounded by family and friends.
Outside of these conversations, work to get comfortable with the "h" word. Talk with a professional hospice care provider, and establish relationships with hospice professionals so that you have trusted experts to turn to when questions arise. The more you understand about hospice, the better equipped you are to dispel myths, describe the benefits of hospice care and help families to understand the true purpose of this valuable program.
When A Patient is Still Not Ready for Hospice Care
Even when you've effectively shared information with your patients and expressed the benefits of the program, they still might say that they're not ready for hospice care.
When a patient or family pushes back, it can be tempting to stop the conversations. However, putting the brakes on this important conversation limits their choices and can negatively impact your ability to continue to provide the highest quality care experience. Sometimes, hospice isn't the best immediate choice. There can be benefits in presenting options like transitional care or palliative care as a gateway to hospice.
Transitional Care Program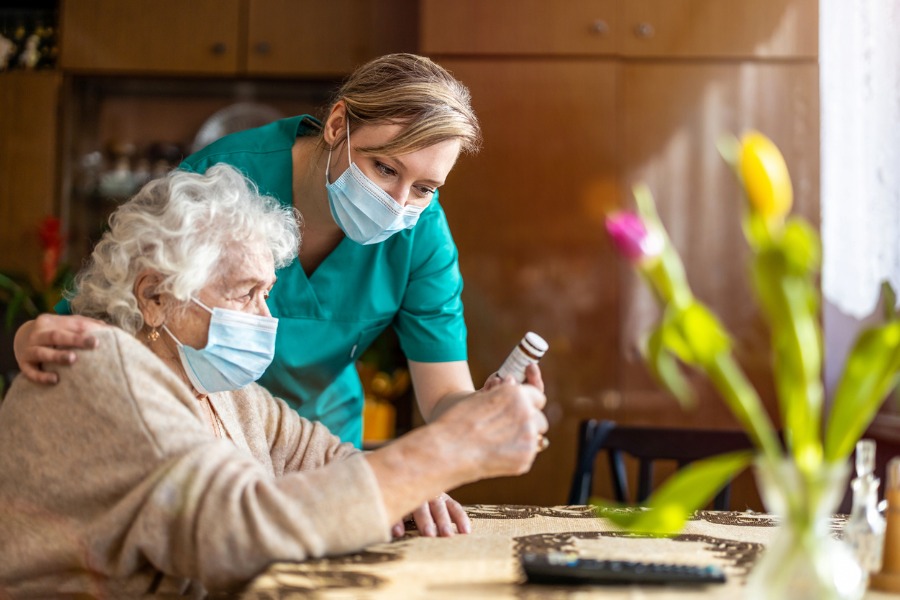 Transitional care is an ideal program for a patient who is moving from an acute care setting to home and is not yet sure about what their preferred course of treatment and care is. This program is suitable for the patient who might not qualify for hospice care because they are continuing curative treatments or have a life expectancy that is greater than six months.
The goal of transitional care management is to help patients to experience comfort and safety at home and guide them toward any next steps in their treatment process, whether that step be home care, home health, palliative care, or hospice care.
The transitional care program bridges gaps by providing patients with support from nursing professionals and care management professionals who oversee their care at home. Care managers also help to connect them with important community resources. Nursing professionals provide guidance and information, and this, in turn, enhances communication between the patient and their physician.
When patients are educated, they better understand how to manage their chronic health conditions. This helps to reduce hospital readmissions. It can also make the bridge to other programs, like hospice care, easier for families to discuss and accept.
Palliative Care Program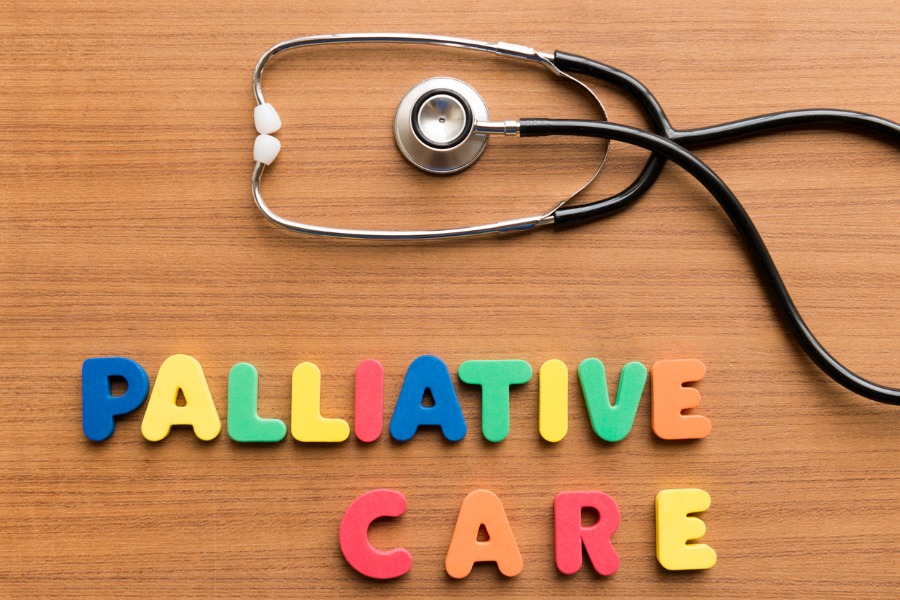 Palliative care is another excellent resource for anyone living with a chronic health condition such as cancer, dementia, COPD, or Parkinson's disease.
A palliative care program provides the patient with access to a professional, multidisciplinary team who can help them to better understand their disease and their treatment options. It is a program designed to assist patients in managing symptoms associated with the treatment of their condition. This can help to make curative treatments more tolerable since the patient receives support in managing pain.
Palliative care can be prescribed at any point after a diagnosis is made. As with most life care programs, starting it sooner often offers the patient the greatest benefit. Unlike with hospice care, patients do not need to stop curative treatments to receive palliative care. For many patients, palliative care can also serve as a bridge to hospice care if the time comes when they no longer wish to continue curative treatments.
Conclusion
It's never easy to have conversations about how to treat a life-limiting illness. This is especially true when a patient says that they're not ready for hospice. However, there are so many benefits to starting these important conversations. Provide your patient with information about this beneficial program early and often. Explain their alternatives too. This can help prepare them for the road ahead and make that journey a little easier for the whole family.
If you need support or have questions about hospice, transitional care, palliative care, home health or home care, Salus is here to help.
Our case managers can open the lines of communication between you and your patient. We also provide the family with a beneficial support network to help in the decision making process. This not only supports the family, but it makes your job easier too.
Contact us anytime with questions or to request an assessment for a patient who is in need of care.