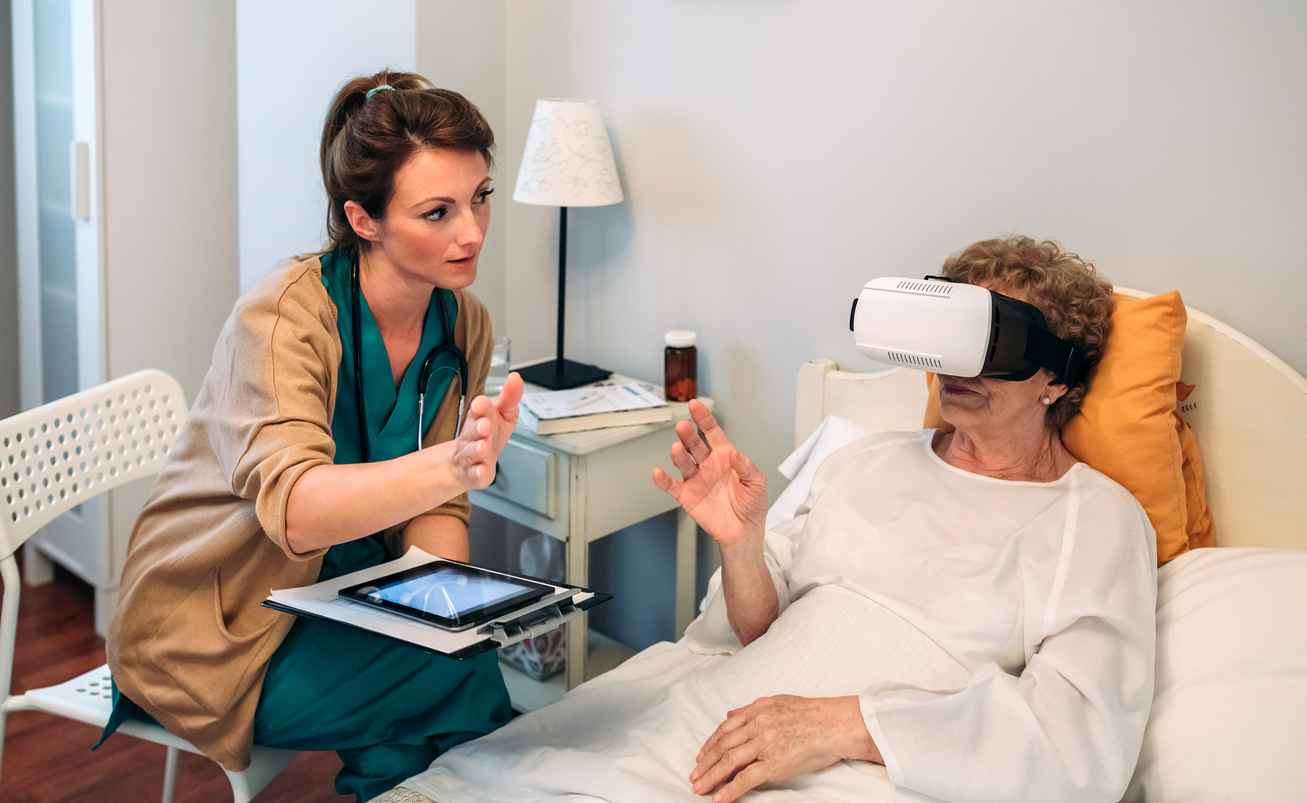 Technology advances benefit all of us, and that's as true in the healthcare industry as any other. In hospice and palliative care, technology helps us to enhance the lives of our patients by relieving pain or discomfort and more holistically meeting emotional or psychological needs.
One form of technology that's getting some attention in the hospice care industry is virtual reality (VR) . Essentially, this involves wearing a headset that beams 3D images right into the retina. Wearing a headset allows a person to see what they'd expect to see if they turned left, right or looked forward. The wearers perceptual vision tricks them into thinking this is in the real world, so they experience the event as if they're living it.
A Life Without Regrets
For many hospice or palliative care patients, virtual reality technology is helping them to let go of regrets about things they haven't had the chance to do in life. For instance, a patient who always wanted to dive with great white sharks or journey on an African Safari can simply put on a headset and experience the event right from their bedroom. Another patient who wants to one last time return to the place where his spouse proposed can enjoy this experience too, right from the comfort of home. While these patients living with life-threatening or life-limiting diseases likely lack the stamina to venture away from home and take part in these experiences, but virtual reality makes it possible.
Quality of Life in Hospice or Palliative Care
This kind of technology, the most popular currently being the Google Daydream System, can bring joy to a patient's life and reduce emotional stress, depression or anxiety. As a result, physical discomfort including back aches, headaches, stomach pain or joint pain are also sometimes reduced. While this isn't the only solution to keeping a patient more comfortable throughout their hospice or palliative care journey, it can compliment medications and other medical interventions and make the plan of care more successful.
Research suggests that our brains process and accept a virtual reality world within seconds. Then, the experience becomes all-absorbing. This short period of time further lends to its emotional and health benefits.
The Beginnings of Virtual Reality in Healthcare
So, where did the idea of bringing virtual reality into the hospice and palliative care spectrum begin?
The story is quite interesting:
Flix Films director Leon Ancliffe had a friend living with paralysis back in 2016. She had one regret – that she had never had the opportunity to swim with dolphins. Using VR technology, Ancliffe helped her reach this personal goal. The impacts of placing the headset on her head were astonishing. She expressed great joy and satisfaction in being able to check off this important bucket list item from her personal list.
Virtual reality in hospice care is currently in the pilot stage. Primary projects are mostly found in the UK, but stateside trials are in the earliest stages too. As the program expands, it will give more patients the joy that Ancliffe's friend experienced as they are empowered to check items off their bucket list and release so many feelings of regret.
Salus continues to watch the advance made as trials continue regarding adding the VR experience to hospice and palliative care plans.  In the near future, we may see a time when every hospice or palliative care patient is given the chance to benefit from a virtual reality experience, empowering them all to live better lives, every day.
There is no ads to display, Please add some